SumUp gives users a simple, low-cost way to accept card payments. Each of its three card readers offer basic functionality for less than $100, and there are no monthly charges or contracts required to use them. The platform also offers a competitive flat-rate payment processing fee of 2.75% per in-person transaction and 2.9% plus 15 cents per invoice paid online.
Compared to options that have feature-rich point-of-sale systems, like Clover or Square , SumUp's offerings are limited. However, not every business needs that extra horsepower; for small businesses that have straightforward payment needs, this could be a good right-size option.
Deciding factors
No monthly cost to use SumUp.
Three options, costing $19, $59 and $99.
Accepts major card brands, Apple Pay and Google Pay.
In-person transactions: 2.75%.

Invoices paid online: 2.9% plus 15 cents.

Remote transactions and payment links: 3.25% plus 15 cents.
No add-on services currently available.
Phone support available Monday to Friday, 9 a.m. to 7 p.m. ET.
Pros
Low cost, low commitment.

All three hardware options below $100.
Cons
Software has limited features.

Narrow range of hardware options.
How does SumUp work?
SumUp lets businesses accept card payments in person, through an online invoice, with payment links or over the phone.
The company's three simple card readers are distinctively simple. Ranging from $19 to $99, these all-white readers with black-and-white displays are also among the cheapest ways to start accepting in-person payments. Using SumUp doesn't require a long-term contract, and there's no monthly fee to use it.
Two of the three readers are standalone devices; to use them, you don't need to be tethered to a phone or register. They connect to Wi-Fi and come with unlimited mobile data without any additional cost to you. This flexibility can be a plus, especially if you move locations frequently and don't want to buy multiple tablets or phones.
The flipside of SumUp's minimalist approach is that it has a limited feature set relative to other companies, especially those that offer complete POS systems . SumUp says it has a POS system coming soon, but until then users must rely on an app that has some components POS systems have, like the option to build an item catalog, but that lacks more complex features, like the ability to build a floor plan of a restaurant or quickly incorporate a customer loyalty program. While other companies offer dozens of reports, you'll have access to only a few reports with SumUp, like transaction and revenue summaries.
In addition to in-person payments, you can use SumUp to send online invoices to customers. You'll also have access to payment links and a virtual terminal that lets you accept over-the-phone payments.
How much does SumUp cost?
SumUp doesn't have any monthly fees. Instead, the only recurring fee you'll pay is for payment processing:
In-person transactions: 2.75%.

Invoices paid online: 2.9% plus 15 cents.

Remote transactions and payment links: 3.25% plus 15 cents.
SumUp hardware options
Hardware comes with a fixed upfront cost. SumUp's three options are all compact and affordable. Considering the cost, it's not surprising that all three are basic compared to the wide range of hardware you might find elsewhere, like a desktop register or a large colorful touchscreen.
For a basic option: SumUp Plus ($19)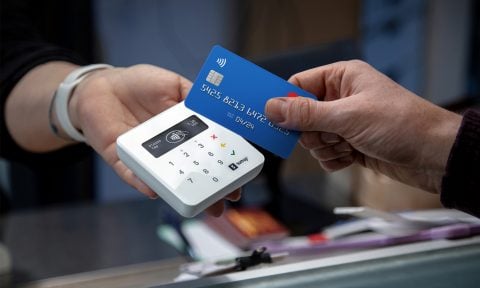 (Photo courtesy of SumUp)
This device isn't much bigger than the cards it accepts. Its low-fi screen displays only the payment type and the total amount without any design flourishes. One notable advantage to this reader is its ability to accept swiped, dipped or tapped cards — to get the same capability from Clover would cost $49, and with Square you'd need two different devices. To use the Plus, you'll need to pair with the SumUp app on a phone or tablet.
For taking payments without a phone: SumUp Pro ($59)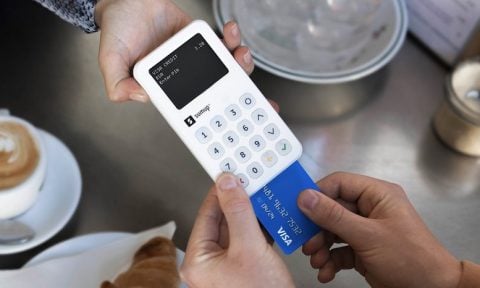 (Photo courtesy of SumUp)
It looks like a big calculator, but the Pro is a card reader that accepts tapped and dipped cards. You don't need a phone to use it, which is the reason for the keypad. In addition to connecting to Wi-Fi, the Pro includes a SIM card, just like your phone, that allows it to use unlimited mobile data to complete payments. You don't need to buy a phone plan. This independence could come in handy if you don't want to dedicate your phone to your card reader — helpful, for example, if employees are processing transactions when you aren't there.
For more customer interaction: SumUp Solo ($99)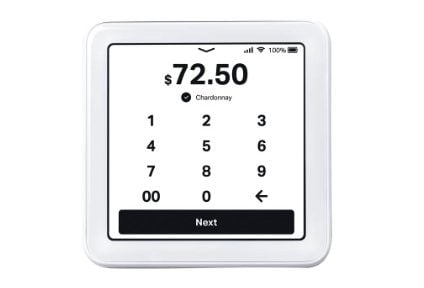 (Photo courtesy of SumUp)
The Solo is the company's only card reader with a touchscreen, but it still exudes SumUp's no-frills aesthetic: The display is monochrome. You can prompt customers for tips or send digital receipts from the card reader — things you can't do with the other two. Like the Pro, the Solo accepts dipped and tapped cards, but not swiped. All SumUp devices can connect to Bluetooth printers or printers that connect to Google Cloud Print.
Benefits of SumUp
Low cost, low commitment
SumUp's low prices are its primary competitive advantage. While many other payments companies have a card reader for less than $100 in addition to more expensive options, SumUp's entire hardware lineup costs $99 or less. There's no monthly cost or long-term commitment to use its services, and its fixed payment processing costs are easy to understand and competitively priced.
Minimalist hardware with a few details that stand out
If you're just looking to accept card payments, why pay more for a Swiss-Army-knife card reader that does 20 other things? Finding a card reader with the right features is more important than finding a card reader with the most features. Plus, SumUp's devices have a few qualities that are hard to find elsewhere. The $19 Plus accepts swiped, dipped and tapped cards; you'll likely pay more or need multiple devices to get the same elsewhere. The Pro and Solo don't need to be tethered to a phone and connect to cell networks at no extra cost.
Drawbacks of SumUp
Software has limited features
If you're looking for a payments partner that can also act as a central hub for your business, you'll be better off with a POS system that includes payment processing. If you're a new business, SumUp might meet your needs today, but if you hope to grow, choosing a system that has more advanced features, like in-depth reporting, might be prudent.
Narrow range of hardware options
More advanced checkout hardware might cost more, but there can be a good business reason to pay more. A customer-facing touchscreen can make building a database of customer contacts easier. A large desktop terminal can display more information than a small screen, which can make checkouts faster. With SumUp, your options are limited.
Alternatives
Another simple, low-cost option: Zettle
The card reader from Zettle has the same pocket calculator vibes and low prices as SumUp. Zettle also has a traditional desktop terminal and a POS system that's free to use. It doesn't have advanced features like customer loyalty programs or email marketing, but what it does have is more than SumUp currently offers. This option, which is owned by online payments giant PayPal, might be a good match if you also sell online.
Built for growth: Square
Like SumUp, you can start accepting payments with Square for less than $50 in hardware costs, have a $0 monthly payment, avoid a long-term commitment and pay low payment processing costs. However, Square's POS system gives you more tools off the bat, like better reporting tools, as well as a system that can grow with your company. Some of the extra software features come with a cost, like the customer loyalty program, but you can start and stop using these at any point. If you're looking at SumUp for invoicing or payment links, Square offers those, too.