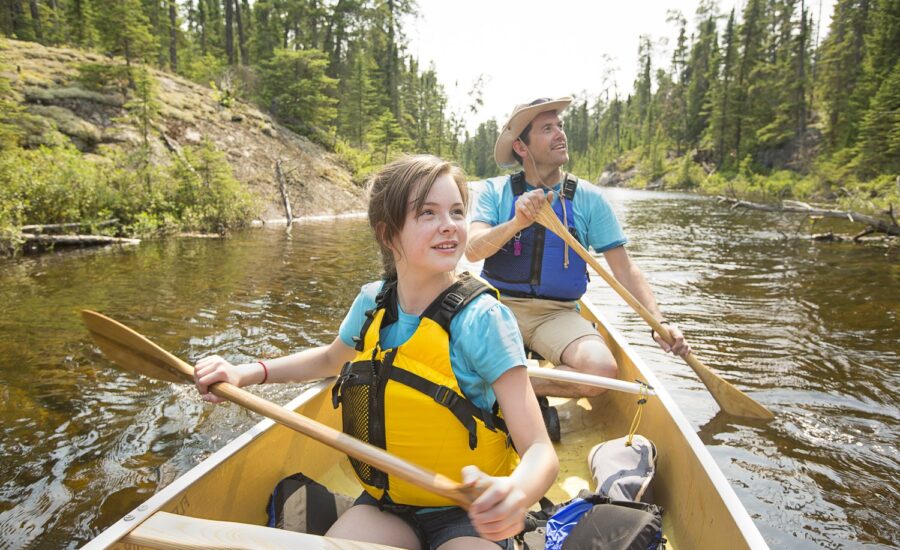 Photo courtesy of Destination Ontario
Who's ready for a road trip? If you live in Ontario, now's a great time to explore what's in your own (very big) backyard—with a bit of a discount. To promote local travel and help the tourism and hospitality sectors recover from the shock of COVID-19, the provincial government has introduced the 2022 Ontario staycation tax credit. For this year only, Ontario residents can claim 20% of eligible accommodation expenses for a tax credit.
After two long years spent mostly at home, many of us are itching for a fun getaway. Plus, with the epic delays and flight cancellations at Toronto Pearson right now, a road trip has never sounded better.
What to know about the Ontario staycation tax credit
Here's how the 2022 staycation tax credit works, including what types of accommodations you can claim.
How much is the staycation tax credit?
Ontario residents can claim 20% of eligible accommodation expenses for vacations taken in Ontario between Jan. 1 and Dec. 31, 2022, up to a maximum expense of $1,000 per individual or $2,000 per family. The savings would be up to $200 for an individual or $400 for a family.
Who qualifies for the staycation tax credit?
To be eligible for the staycation tax credit, you must be an Ontario resident on Dec. 31, 2022. Only one person in a family can claim the credit. The claim can include the eligible expenses of a partner/spouse and eligible children.
What travel expenses can you claim for the tax credit?
You can claim accommodation expenses for a leisure stay of less than a month at short-term lodgings like hotels, motels, cottages, campgrounds, bed-and-breakfasts, resorts, lodges and vacation rental properties. (For package tours, you can claim the accommodation portion.) Wherever you stay, get a detailed receipt showing that you, your spouse or common-law partner, or your eligible child paid for accommodations. The issuer of the receipt must be a supplier registered for GST/HST in Ontario.
What's not eligible for the staycation tax credit?
You can't claim stays at time-shares or on vehicles that can be self-propelled (no boats or trains, for example). Also not claimable: gas, rental cars, flights, parking, groceries or tickets to attractions. You can't claim accommodations that you or someone in your family has been reimbursed for, either. And, lastly, the trip must be purely for fun—no work or school trips, or travel that's eligible for a medical expense tax credit.
Can you claim expenses for more than one trip?
Yes, you can claim 20% of accommodation expenses for multiple trips, up to the yearly maximum mentioned above.
How do you claim the staycation tax credit?
Claim the tax credit when you prepare your 2022 personal income tax return in 2023. For more details on the staycation tax credit, visit the Ontario government website.
Start packing: Our five best Ontario vacation ideas
Enjoy outdoor adventures in Collingwood
Collingwood is a great vacation spot for couples, families and friends. Located in Simcoe County at the southern point of Georgian Bay, the town offers plenty of outdoor activities—as well as places to zone out and do absolutely nothing.
At Blue Mountain, you can hike, bike, golf and swim in the summer, or ski, snowboard and snowshoe in the winter—then unwind in the resort's village and spas. At the Port of Collingwood and harbour area, you'll find charter boat tours, fishing areas, hiking trails, paddling adventures, a sailing school and more.
Historic downtown Collingwood offers restaurants, cafés, boutiques, theatres and festivals. Spa lovers can find their bliss at Living Shore Spa or Scandinave Spa (the hot and cold plunge pools are a must). Collingwood is also home to several craft breweries, and it's on the route of the delicious Apple Pie Trail.
Find out more about Collingwood from South Georgian Bay Tourism.
Explore the wineries of Niagara Region
No Ontario travel list would be complete without a trip to Canada's largest wine region. Niagara is home to dozens of wineries, including Inniskillin, Jackson-Triggs and Château des Charmes—all blessed with rich soil and "mesoclimates" that create the perfect conditions for wine grapes.
The picturesque town of Niagara-on-the-Lake makes a great home base. Spend the day cycling from one world-class winery to the next (bring your own bike or rent one). If you'd rather someone else plan the itinerary, sign up for a guided winery tour. In the evening, watch top-notch live theatre at the Shaw Festival.
Accommodations are plentiful—pick a hotel oozing vintage charm or stay at a bed-and-breakfast, cottage, vacation rental or campground. Get more info from Tourism Niagara-on-the-Lake and Tourism Niagara.
Also popular with wine lovers: Ontario's Prince Edward County, where you'll find over 35 winemakers, plus music, art, historical sites and the white-sand beaches of Sandbanks Provincial Park. Learn more from The County.
Catch the Agawa Canyon train in Sault Ste. Marie
Venture to northern Ontario and you'll never forget its rugged, breathtaking beauty. Here's an amazing way to experience it: Book a ride on the Agawa Canyon Tour Train. This one-day excursion departs from downtown Sault Ste. Marie and travels 114 miles into the wilderness of the Canadian Shield. At the end of the route, you'll explore Agawa Canyon Park, with its lovely waterfalls and stunning lookouts. This year, the tour runs daily from Aug. 1 to Oct. 10—for the best fall colours, book in September or October.
What else can you do in the Soo? Summer activities include hiking, mountain biking, fishing, climbing and watersports, and winter activities include skiing, snowboarding, snowmobiling, skating and snowshoeing. The area is also known for its Indigenous tourism experiences and Group of Seven­­–inspired art events.
Accommodations here include everything from major hotel chains and motels to bed-and-breakfasts, lodges, cottages and fly-in outposts. Get more info from Tourism Sault Ste. Marie and the Algoma Kinniwabi Travel Association.
Cruise through Gananoque and the 1,000 Islands
A popular destination year-round, Gananoque and the 1,000 Islands are located where Lake Ontario meets the St. Lawrence River, just 15 minutes from Ontario's border with New York State.
The must-do activity: exploring the 1,000 Islands by boat, such as a passenger or car ferry. (If your tour takes you into U.S. waters, you can get off and explore if you bring your passport.) For a bird's-eye view, you can also take a helicopter tour.
Once you're back on land, you'll find plenty to do: visit Canada's largest outdoor contemporary art exhibit at the Sculpture Park, explore the hiking trails and beaches, meet local artisans, catch a show at the waterside Thousand Islands Playhouse and much more. Your itinerary could also include golfing, cycling, skydiving, kayaking, boating, fishing, treetop trekking, antiquing… the list goes on. 
Get more ideas from the Town of Gananoque and Travel 1000 Islands.
Sleep under the stars—without roughing it
Camping has always been a popular and affordable staycation option, thanks to Ontario's wealth of provincial and national parks. Never done it before? Check out beginner-friendly learn-to-camp programs from Ontario Parks and Parks Canada.
If you love nature but don't want to sleep in a tent, some Ontario parks offer roofed accommodations, such as backcountry cabins, camp cabins, cottages and heated yurts.
And if you crave more creature comforts (you're on vacation, after all), you'll find plenty of private glamping sites with frills like king-sized beds, wood-burning fireplaces, bubble tents, private decks and personal chefs.
Want even more great Ontario staycation ideas? Check out Resorts of Ontario, Check In Canada, Camping in Ontario, Ontario Parks and Hipcamp.
Read more about travel:
The best travel credit cards that aren't travel credit cards
Is your credit card's travel insurance enough?
Canada's best credit cards for travel insurance
How much does it cost to fly in Canada?