TrueCar offers a treasure trove of information for car shoppers, from extensive rankings and detailed vehicle reviews to helpful pricing analyses.
The app stands out with its "best of" lists that allow buyers to look for everything from the roomiest cars for tall people to the best supercharged and turbocharged cars. TrueCar also tells you whether a listing price is excellent, great, fair or high, and how much people pay on average for specific trims.
With this much information, users looking to take advantage of all of TrueCar's offerings may find it easier to use the desktop website than the mobile app.
This app is best for: individuals looking for hyper-detailed information on different types of cars, as well as how they compare with one another.
What is TrueCar?
TrueCar is an online car-shopping platform that offers used- and new-car listings from licensed dealers. The company was founded in 2005 and works with a network of more than 13,000 TrueCar-certified dealers that are required to meet specific customer service standards. It also powers vehicle purchasing programs for top brands, including American Express, Sam's Club, Navy Federal Credit Union and AAA.
The company recently launched TrueCar+, which allows shoppers to make their car purchases from home. That offering is currently targeted to users in the Tampa, Florida, area.
TrueCar and other car-buying apps offer users an easy way to browse through thousands of new- and used-car listings from big online retailers like CarMax and Carvana, as well as from local dealers. Many of the top car-buying apps feature robust inventory, access to vehicle history information, and competitive pricing tools.
App features
Yes; you can estimate your monthly payment for either a loan or a lease.
Yes; TrueCar offers both expert and owner reviews.
Yes, listings include a synopsis of vehicle history information; however, users need to pay for the full report.
Yes, you can receive alerts for price drops.
Yes, you can get a same-day offer from a local dealer, valid for three days.
Pros:
Extensive "best-of" lists to help users explore different vehicles.

Includes price ratings for listings.

Offers ratings and reviews from verified owners.
Cons:
You must submit contact information to get dealer name and detailed pricing.

Depth of data makes navigation difficult.

No noticeable difference between using the app and the mobile browser.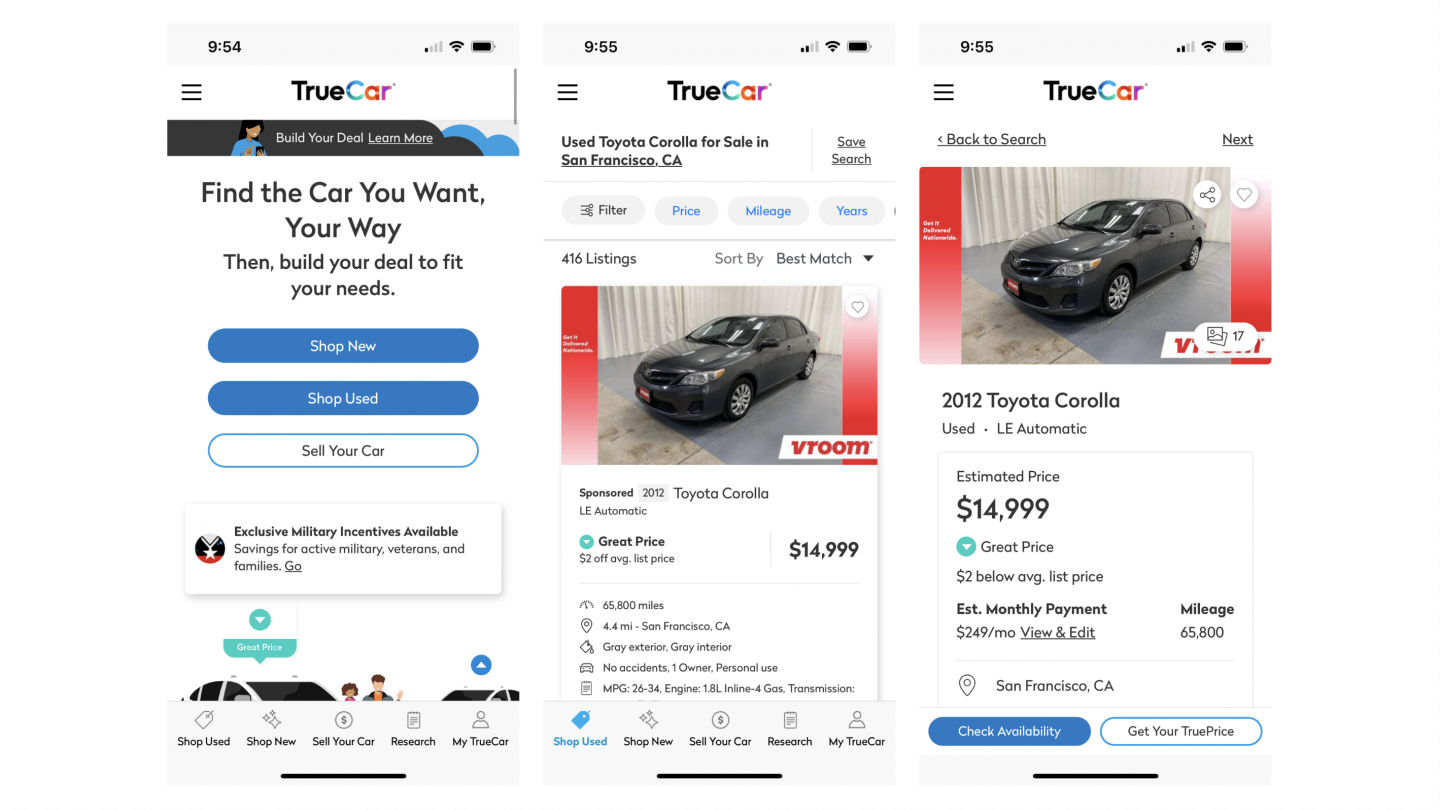 TrueCar's app interface
Listing a car on TrueCar:
TrueCar doesn't allow you to list your own car on the app.
Buying a car on TrueCar:
TrueCar does not charge any fees when you buy a car listed on its platform. Once you find a listing you're interested in, you'll need to submit contact information to the dealer to find out if the car is still available, to get detailed pricing, or to begin the purchase process online by prequalifying for financing.
Fuel type, heated seats, power trunk, remote engine start, blind spot system and towing capability.
Can I filter out cars with accidents or other damage? Yes.
Can I filter for cars with only one owner? Yes.
Can I filter out online retailers' non-local listings? Yes, you can also filter to show only online dealers.
Apple App Store rating: 4.7 stars; 44,000-plus user ratings.
Google Play rating: 4.3 stars; 11,000-plus user ratings.