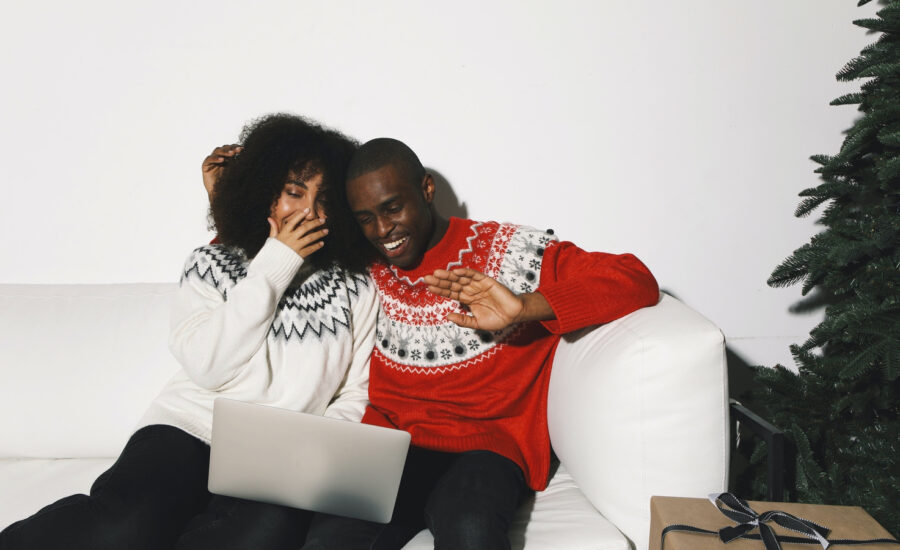 Photo by Polina Tankilevitch from Pexels
'Tis the season to binge-watch holiday classics. Whether you've never used a streaming service before—or you just can't find Home Alone 2 on the platform you're already subscribed to—we've rounded up the 10 best streaming services and their prices, so you can choose wisely.
Canadian streaming services deals
Before you sign up for any streaming service, find out first if it offers a free trial. This will not only save you a few bucks, but it will also allow you to sample the service to get a better idea of whether you want to fully invest in the service. Some services, like Netflix and Disney+, do not offer free trials, whereas Crave and Amazon Prime Video offer 7- and 30-day free trials, respectively. 
While conventional sales are rare in the world of streaming services, that's not to say you can't find a deal. Some services can be bundled (like through your Amazon Prime membership, for example) or you can save by paying for an entire year upfront (as you'll see in my chart below). 
Of course, a great way to save on streaming services is to check how many users are allowed on one account—then have a conversation about it with family and friends. If, say, your parents or adult kids subscribe to Netflix, you may be able to use their account. If you have an existing account of your own with a particular streaming service, and room to add more users, you can always agree to exchange log-ins, too.
Here are the deals on streaming services in Canada, along with prices and features to help you choose the right one for you and your household:
Netflix
Netflix exclusive shows include Squid Game, Bojack Horseman, The Witcher, Stranger Things. You will also get access to classic shows, such as Seinfeld, Downton Abbey, Breaking Bad and thousands of other titles. As for what to watch right now, check out the wide selection of holiday movies, such as How The Grinch Stole Christmas, Elliot The Littlest Reindeer and The Holiday.
Cost: Basic $9.99/month, standard $14.99/month, premium $18.99/month.
What's included: Watch unlimited movies and shows on your mobile phone, laptop or tablet at any time with high-definition (HD) streaming, You can download videos on up to two devices with a standard plan. Get 4K and HD video streaming, and downloads are available on up to four different devices with the premium plan.
Free trial or deals: None
Apple TV+
Apple TV+ includes original shows like The Morning Show, The Shrink Next Door and Ted Lasso. Be sure to watch a wide selection of holiday movies such as A Charlie Brown Christmas, 'Twas The Fight Before Christmas and Mariah's Christmas: The Magic Continues.
Cost: $5.99/month, ($15.99/month if purchased with other services via Apple One).
What's included: 4K High Dynamic Range (HDR) streaming across all devices for one price.
Free trial or deals: 7-day free trial or three months free with the purchase of an Apple device, such as a Macbook, iPhone or iPad.
Crave
Stream Crave and HBO original videos including Letterkenny, Game of Thrones and The Handmaid's Tale. You also get access to a wide selection of well-known holiday movies such as Elf, A Christmas Carol and It's A Wonderful Life. Add on Starz for Crave and get access to classic movies like The Shawshank Redemption, 2001 A Space Odyssey and Boogie Nights.
Cost: Crave Total: $19.99/month or $159.90/year. Crave Mobile: $9.99/month or $99.90/year. Starz add-on: $5.99/month. You can also sign up for Crave through your cable provider (trials vary by province).
What's included: Downloading and streaming anytime on up to five devices along with access to its entire library. You also have access to the entire Crave library on your mobile device.
Free trial or deals: Seven days of free streaming if you sign up with Crave directly.
Disney+
Stream all Disney original shows like The Mandalorian and WandaVision, along with full access to the Marvel movie library and all 33 seasons of The Simpsons. Check out its holiday movies selection, including the Home Alone series, The Nightmare Before Christmas, Mickey's Christmas Carol and others. Access to hundreds of additional shows with Star with Disney+ including, Lost, Glee, Modern Family, Star Wars: The Clone Wars and Bob's Burgers and many others.
Cost: $11.99/month or $119.99/year. Star on Disney+ included with all subscriptions.
What's included: Ad-free streaming of all Disney content.
Free trial or deals: None.
YouTube Premium
It's like YouTube but at a luxury, with ad-free video streaming, offline video downloads and playback of videos. Get access to YouTube Music with ad-free streaming, offline music downloads and playback.
Cost: Standard plan: $11.99/month; family plan: $17.99/month; student plan: $6.99/month.
What's included: For all subscription tiers: Ad-free video and music streaming and downloads along with background playing of YouTube.
Free trial or deals: Three-month free trial for standard subscribers. One-month free trial for family and student subscribers. (More info on free stuff from YouTube below.)
CBC Gem Premium
Enjoy ad-free streaming of all CBC videos, including well-known shows like Kim's Convenience, Schitt's Creek and Pretty Hard Cases, as well as news programming and special event coverage.
Cost: $4.99/month
Free trial or deals: 30-day free trial when you create your account.
Amazon Prime Video
Streaming of Amazon original programming, such as The Wheel of Time, The Boys and I Know What You Did Last Summer. Holiday movie picks, including Polar Express, Elf and The Man Who Invented Christmas. Ultra HD and HDR video streaming. Offline mobile video downloads on select shows and movies.
Cost: Amazon Prime membership fee (includes Amazon Prime Video): $7.99/month or $79/year
What's included: 4K streaming of Amazon Prime; offline viewing and downloads on select titles. Ad-free and on-demand music streaming with Amazon Music Prime. Get access to free games and loot through Prime Gaming included with your Amazon Prime Membership. Also, get free two-day shipping included with Amazon Prime membership.
Free trial or deals: 30-day free trial of Amazon Prime Video when you sign up for Amazon Prime. Get four months of Amazon Prime Music Unlimited free when you sign up for Amazon Prime for the first time.
Curiosity Stream
Stream documentaries, such as Secrets of The Solar System, Man's First Friend and The History of Home, along with many other movies and shows about history, science, technology, nature and society.
Cost: Standard HD subscription: US$2.99/month or US$19.99/year. Premium 4K subscription: US$9.99/month or US$69.99/year.
What's included: HD streaming with a standard HD subscription, and 4K streaming with 4K subscription.
Free trial or deals: The HD annual subscription is US$11.99 for a year when you use code GIFT21 when signing up.
Paramount+
Get access to award-winning CBS news library and Paramount+ original shows such as The Twilight Zone, Why Women Kill, Star Trek Discovery, Coyote, One Dollar, The Good Fight and Console Wars. Holiday movies include Christmas in the Heartland, Santa Hunters and more.
Cost: Paramount+ $5.99/month.
What's included: Stream more than 30,000 TV episodes and movies from a variety of different channels, including CBS, Comedy Central, MTV, Nickelodeon and CBS News.
Free trial or deals: 50% off for three months, along with a seven-day free trial.
Crunchyroll
Access 30,000 different anime episodes and hundreds of different anime, like Naruto, Bleach, One Piece, Attack on Titan and Black Clover.
Cost: Fan: $7.99/month. Mega Fan: $9.99/month or $99.99/year.
What's included: Unlimited ad-free streaming of the entire Crunchyroll anime library with a Fan subscription. Unlimited ad-free streaming and offline viewing. Stream on up to four different devices with a Mega Fan subscription.
Free trial or deals:  14-day free trial available before purchasing a premium subscription.
No funds, no problem: Free streaming services and alternatives
If you're on a shoestring budget or simply don't want to pay for what you watch, there are free (and totally legal!) alternatives available.
YouTube
YouTube is the most popular streaming service online, and it offers endless hours of videos. We covered the paid plans on the premium services above, but YouTube is a trusty, free choice for hours of entertainment—you may just have to endure some ads (some are skippable, though!). You can watch a variety of free videos through the YouTube Originals channel, such as Retro Tech, Liza on Demand, Rhett Links Buddy System and Demi Lovato's Dancing with the Devil. You can also watch YouTube stars, like Marques Brownlee, Liza Koshy and Rhett Link from Good Mythical Morning. YouTube has also got you covered for free streaming of holiday movies with classics such as A Christmas Carol, Miracle on 34th Street, Home Alone 1 2 and many others available.  
Twitch
Into gaming? Twitch is the platform for streaming and watching gaming content. Watch for prominent gaming streamers, including h3h3productions, Ninja, auronplay along with staple gaming channels such as IGN and GameSpot. Ninja is the top streamer on the platform with 17.1 million followers, and auronplay is in the second spot with 10.8 million followers. Twitch also features holiday-themed emotes (or emoticons) of Santa, reindeer and snow people you can download and use. Creators also stream holiday movies and games. You don't need to register an account to watch streams on the desktop version of Twitch, but you'll need to sign up for an account if you're streaming through the app. 
Dailymotion
While nowhere near the size of YouTube or Twitch, Dailymotion has features worth checking out. The site has four dedicated verticals: News, sports, entertainment and music. Prominent news publications like the Canadian Press, Vogue and Teen Vogue have channels. Check out the Home Alone series, Rudolph the Red-Nosed Reindeer, Miracle on 34th Street and others. 
How each streaming service sources its content
So, where do all these platforms get their content? Short answer: It differs for each service. While streaming giants like Netflix, Apple and Crave do produce original programming through their own production houses, they also procure the rights to stream various television shows and movies on their platforms. Other services, like Crunchyroll and Paramount+, don't produce original shows or movies; they only procure rights for what they stream. And sometimes those rights are limited, which is why you may have heard that Prime had Superstore, but it's now it's only available on Netflix, for example. Streaming services will also buy the rights to stream exclusively on their respective platforms (like when Friends stopped being available on Netflix and was then it was released for streaming on Crave).
The country you're watching from matters, too. What's available to Canadians to watch can differ in other countries, even on the same streaming service provider. So, you should always check the streaming service's website to be sure you'll be able to get the shows and movies you want to watch.
Either way, with so many services available, all with huge libraries of films, shows and documentaries, you're bound to find something binge-worthy—no matter your budget.
Read more on Strategic Shopping:
How much does grocery delivery cost?
How much Canadians spend on their skin-care routines?
Canada's best credit cards for online shopping
The best store credit cards in Canada right now