If you're a fan of free things, then Hyatt elite status is for you. Exceedingly generous with its top-tier members, the World of Hyatt program offers benefits that other programs simply don't.
But is it worth the time and money to invest in the program? Should you pursue Hyatt elite status in 2022? Here's a look at the perks of Hyatt elite status and how the program can be lucrative.
Hyatt elite status rises above the rest
We already hinted at this in the introduction, but Hyatt's top-tier Globalist elite status offers some truly stunning perks compared to other programs: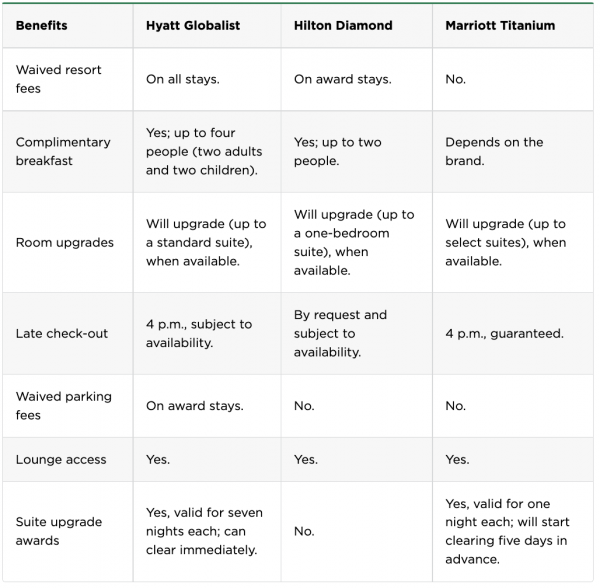 Yes; up to four people (two adults and two children).
Will upgrade (up to a standard suite), when available.
Will upgrade (up to a one-bedroom suite), when available.
Will upgrade (up to select suites), when available.
4 p.m., subject to availability.
By request and subject to availability.
Yes, valid for seven nights each; can clear immediately.
Yes, valid for one night each; will start clearing five days in advance.
The biggest distinction is that the World of Hyatt program will upgrade you to a better room at check-in, while both Marriott and Hilton leave this to the discretion of front desk staff. You can also save a lot of money in both resort and parking fees as a Globalist member, especially in expensive locations.
Hyatt 2022 status requirements
There are four Hyatt status levels: Member, Discoverist, Explorist and Globalist. Here's what you need to do to climb status tiers this year.
Entry-level members are not required to stay any number of nights or earn any number of base points; instead, they automatically receive perks like waived resort fees on award bookings and the chance to earn 5x points per eligible dollar spent with the brand. Once they earn elite status, the number of perks will increase.
Hyatt elite status requirements
A member must stay the following number of nights or collect the following number of base points in a calendar year to reach a certain level of elite status. They may also earn status by holding a certain number of meetings or events per year at Hyatt properties.

If staying several nights or earning thousands of points sounds challenging to you this year, consider this alternative for earning Hyatt points quickly: a Hyatt co-branded credit card.
Hyatt credit cards
Hyatt offers consumers two different co-branded credit cards — one for business travelers and one for personal travels.
World of Hyatt Credit Card : Earn 30,000 Bonus Points after you spend $3,000 on purchases in your first 3 months from account opening. Plus, up to 30,000 More Bonus Points by earning 2 Bonus Points total per $1 spent in the first 6 months from account opening on purchases that normally earn 1 Bonus Point, on up to $15,000 spent.
While the welcome bonuses for these cards are nice, the true driver of elite status is ongoing spending with the cards. The World of Hyatt Credit Card earns you 2 elite night credits for every $5,000 you spend, with no upper limit.
The World of Hyatt Business Credit Card , meanwhile, will give you a slightly better 5 elite night credits for every $10,000 you spend on your card — with no upper limit.
You'll also receive complimentary Discoverist elite status as long as you hold either card. Although Discoverist elite status doesn't give you much, it does grant free premium internet, room upgrades and bottled water during your stays — not to mention a head start on the Explorist or Globalist tiers.
MGM Rewards/Las Vegas tip
New for 2022: MGM Rewards is waiving resort fees for its Gold and above elite members. Because of a partnership between Hyatt and MGM, those who hold at least Explorist elite status in Hyatt's program will earn reciprocal MGM Rewards Gold status and be able to take advantage of this benefit.
As a result, Hyatt elite members seeking to requalify for Hyatt elite status can do so using Las Vegas' rock-bottom room rates, without having to shell out for costly resort fees.
Overall
World of Hyatt points, however, are worth the most of any hotel loyalty program points. According to our most recent valuations , when using points for free hotel nights at Hyatt properties, travelers should target 1.9 cents in value for each Hyatt point. That means that when you divide the cash price by the number of points required for any given award booking, a figure above 1.9 cents is a great deal, a figure equal to 1.9 cents is a good value, and a figure below 1.9 cents is a bad deal.
This is a higher point value than you'll get with similar loyalty programs from brands like Hilton ( 0.5 cent ) and Radisson ( 0.6 cent ).
Elite status program value
When we took a narrower look at the value of hotel elite status programs in 2022, Hyatt fared even better, coming in No. 1 out of seven programs analyzed.
For this analysis, we focused on the hotel elite statuses that give travelers tangible value, such as free food. The Hyatt elite status program offers useful benefits across all of its elite levels.
Top perks of the World of Hyatt loyalty program
Ways to earn points easily
Although top-tier Globalist members only earn an additional 30% bonus on stays, Hyatt points are still easy to earn. Even if you don't hold either co-branded Hyatt credit card, you can transfer Chase Ultimate Rewards® over to Hyatt at a 1:1 ratio, meaning one Chase point becomes one Hyatt point.
Chase's popular travel credit cards include the Chase Sapphire Preferred® Card and the Chase Sapphire Reserve® , both of which offer lucrative earnings on categories such as dining, travel, online groceries and select streaming services.
A semi-fixed award chart
Unlike many other hotel reward programs, Hyatt still maintains its own award chart . Although you'll pay varying prices depending on demand, you'll never need to shell out more than the published prices.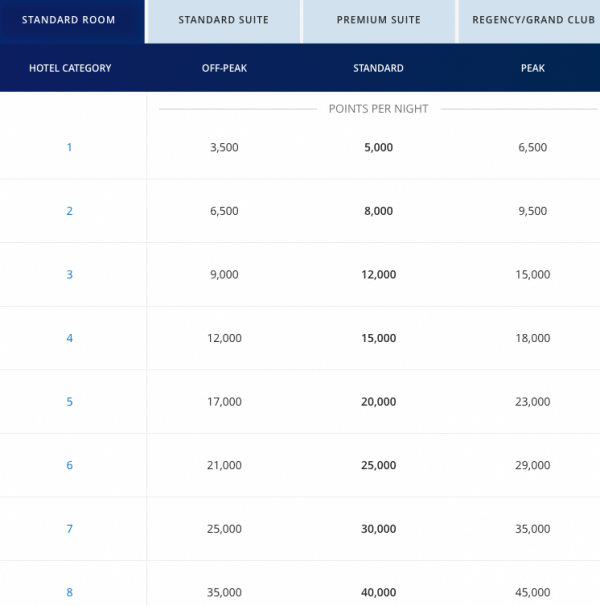 You can choose to redeem your rewards for multiple room types, including both standard suites and premium suites.
Nerdy tip: Hyatt's suite upgrade awards will grant you guaranteed upgrades to a standard suite on stays of up to seven nights. This upgrade will clear as long as there is standard suite availability
New properties to check out
Hyatt is big into the expansion game, including the recent acquisition of Apple Leisure Group. Members have access to over 100 new hotels across the Caribbean, Mexico, Europe and Central America. Plus, Hyatt now offers more all-inclusive options, such as the highly anticipated AMR Collection.
Hyatt elite status is industry-leading, with benefits such as free parking and completely waived resort fees beating out competitors such as Marriott and Hilton. And thanks to its semi-fixed award chart and easy-to-earn points, snagging a stay at a Hyatt hotel is both cost-effective and simple. Finally, those who have balked in the past due to Hyatt's limited geographic footprint will be pleased to find that Hyatt's aggressive expansion program continues adding new properties around the world.
Photo courtesy of Hyatt.
How to maximize your rewards
You want a travel credit card that prioritizes what's important to you. Here are our picks for the best travel credit cards of 2022 , including those best for: