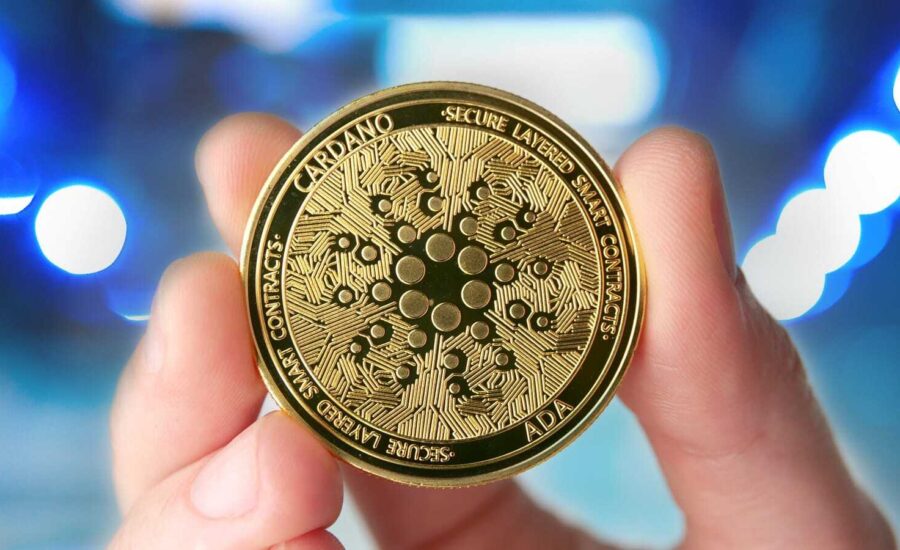 Photo by Elpisterra from Shutterstock
Like other cryptocurrencies, ADA, the native coin of the Cardano blockchain, has been in a bear market since October 2021—meaning a recent pattern of price declines. Despite this downturn in crypto prices, Cardano seems to be a strong player among the public blockchains that offer smart contract functionality. (Smart contracts are automated digital agreements, written in code, for transactions between different parties.)
Because of a dedicated community of developers and supporters, ADA is regularly among the top 10 cryptocurrencies by market capitalization; as of June 2022, it's the sixth-largest cryptocurrency, or the fourth-largest if you exclude stablecoins (cryptocurrencies whose value is pegged to the U.S. dollar).
Investors who hold this crypto coin have another route to potential gains: staking their ADA, which earns an estimated 4% to 6% annual percentage yield (APY) as a reward. It's like putting money in a high-interest savings account and earning interest—except that staking rewards are not guaranteed, not paid in dollars and not protected by the Canada Deposit Insurance Corporation (CDIC).
Before we get into more details about staking, though, let's take a closer look at Cardano and how Canadians can invest in ADA.
What is Cardano?
Cardano is a public blockchain (a distributed digital ledger) built on a foundation of evidence-based, peer-reviewed research in cryptography and blockchain technology. Like the better-known Ethereum blockchain, Cardano is an all-purpose blockchain with smart contract functionality, and it was designed to be scalable and secure. Decentralized apps (dApps) developed on Cardano have applications in education, retail, agriculture, government, finance and health care.
Cardano uses the proof-of-stake (PoS) consensus mechanism, a way of validating cryptocurrency transactions that enables coin holders to earn more ADA by staking it. This involves pledging, or delegating, their coins to the blockchain to help verify transactions, add new blocks of data and create new coins.
How does Cardano staking work?
Staking is a feature of blockchains that use the PoS consensus mechanism. By staking their coins on Cardano, ADA holders play a part in the functioning of the blockchain, in the hopes that the success of the network will lead to even greater adoption, and thus an increase in the value of the coin.
There are two ways in which you can stake your ADA:
1. Operating a stake pool
If you have the requisite technical proficiency, you can choose to operate a block-producing node. As an operator, you can stake others' ADA, too, pooling your coins to form a "stake pool." Although there's no minimum amount of ADA required to start a stake pool, you'll need the technical know-how to set it up and run it, and to ensure that your node (computer) is operational nearly 100% of the time. Delegators will rely on you to operate the node properly and to pay them their share of any rewards earned.
2. Delegating your ADA to someone else's stake pool
Instead of operating a stake pool, you could outsource the technical work to a stake pool operator. You do this by delegating your ADA to an existing pool. For this service, the stake pool operator collects a fixed fee and a variable commission (called "pool margin"). It distributes any ADA rewards it receives to all its delegators in proportion to what they staked.
Avoid staking with an "over-saturated pool": one that's grown so large that rewards no longer increase significantly as more ADA is staked. Also, consider the fixed and variable fees the pool operator charges, and verify the pool's success rate in producing new blocks. Non-technical considerations could include the trustworthiness of the pool operator and their willingness to respond to questions from delegators.
Why stake on Cardano?
Two aspects that drive developer interest in Cardano are its evidence and research-based approach to blockchain development and its mission to empower individuals through a commitment to decentralization. In addition, Cardano is global in its vision, with a strong presence not only in the West but also in Africa and other parts of the world.
What are the risks of staking ADA?
Although Cardano has been around for a few years, the blockchain space is evolving. Consider these risks before you stake your coins:
While your ADA is staked, you can't access or sell it.
Staking rewards are earned in ADA, so the dollar value of your staking rewards is dependent on the price of ADA. While staking will earn you more ADA, the dollar value of your investment could fall drastically if the coin's price plummets.
Joining a staking pool carries risks, so it's important to research potential pool operators and find one that's both trustworthy and reliable.
Where to buy and stake ADA in Canada
If you choose to stake ADA, you can buy tokens in Canadian dollars and stake them on NDAX, a compliant crypto trading platform. NDAX offers an average APY of 4.8% minus fees on staked ADA, and it charges users 20% of rewards generated. Rewards are paid out daily.
It's easy to set up and track your staked ADA on NDAX, and the platform follows robust security practices including the use of cold (offline) wallets to store staked crypto.
For other crypto trading activities, NDAX has a competitive transaction fee of 0.2%, and it does not apply a spread or other markups. Deposits are free, and withdrawals cost $4.99 flat. The platform provides customer service via live chat, email and phone, with a response time of 24 hours for messages submitted off-hours.
How to buy and stake ADA on NDAX
Sign up for a free NDAX account.
Fund your account by e-transfer, wire transfer or bank draft.
Select ADA and enter how much you want to buy.
Use NDAX's staking calculator to find out the potential profit.
In the "Staking" section, click "Stake" beside your ADA holdings.
Double-check the details before you commit.
Beware the risks of crypto investing
While cryptocurrency investing can be profitable, prices are also highly volatile. Before you buy or stake any digital coin, consider whether it fits your investment plan, risk profile and long-term goals. Always do your own research, and carefully review the service providers' user agreements and risk disclosures before you click "buy."
Read more about crypto:
How to stake Ethereum (ETH) in Canada
How to stake Polkadot (DOT) in Canada
Crypto trading fees: Are you paying too much?
The best metaverse coins to buy in 2022