You've done it! After flying many miles and/or earning miles through a credit card, you finally are ready to redeem your miles for an award flight. You might be familiar with how to find and book revenue flights, but what about how to search award flight availability?
Even if you know how to perform a simple award search, you may be looking for tricks, tips or pitfalls to avoid when searching for your ideal award flight. Dig into how to search award flight availability on five of the largest U.S. airlines:
How to search Alaska award flight availability
Alaska Mileage Plan members can start an award search right on the Alaska homepage. Start by clicking the checkbox to use miles, then enter your origin and destination airports, dates, and number of passengers. Then, click Find Flights to start your search.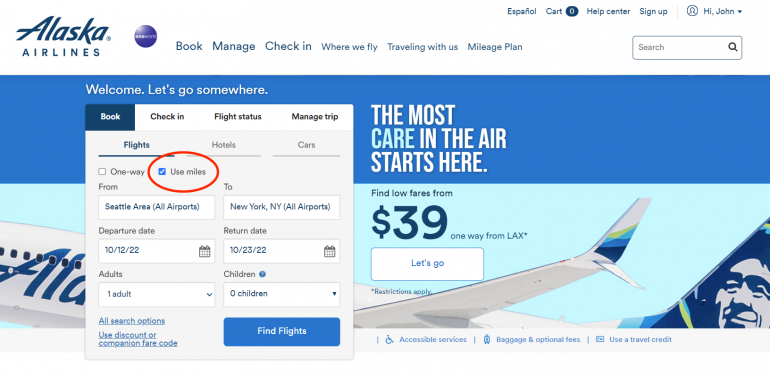 Results are initially sorted by number of stops and from earliest to latest. You have the option to sort by:
Price.

Duration.

Departure time.

Arrival time.

"Prefer Alaska."
By default, Alaska will show you awards on all airlines and use any number of stops. You can filter results by number of stops, airlines or airports by deselecting options on the left side of the screen.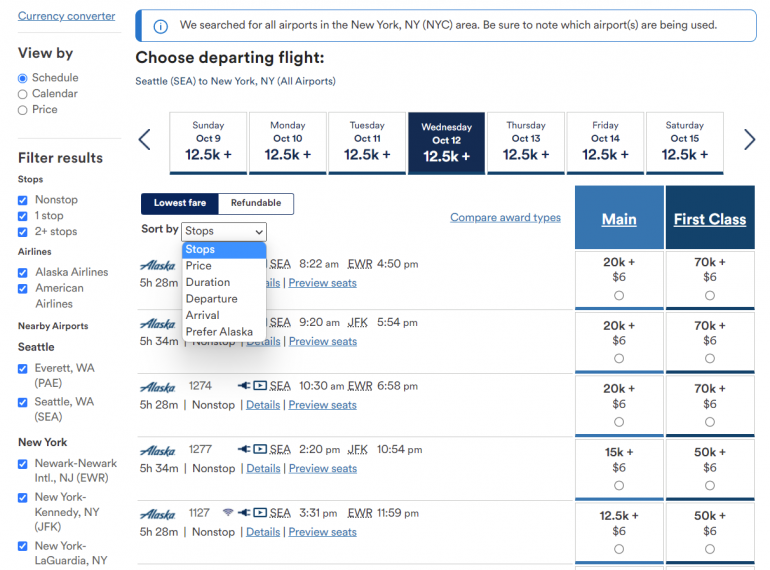 Alaska automatically shows the cheapest award rates for dates as well three additional days on either side of the date you searched. If you want to search a wider range of dates, click on the Calendar option. This will show you the award rates for all dates for the month that you searched.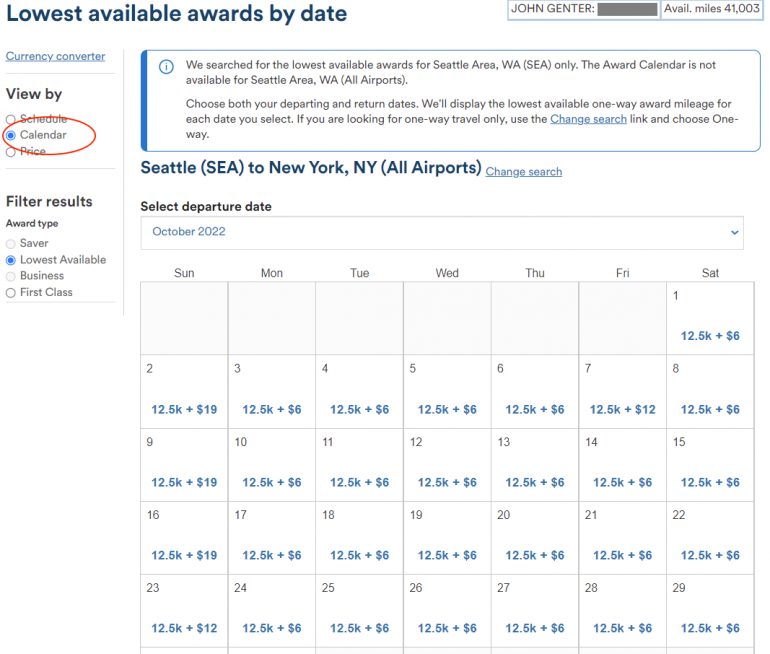 Nerdy tip: You can also search Alaska Airlines awards through the American Airlines website. Just launch an award search on American's website and limit the results to Alaska Airlines flights.
How to search American award flight availability
Travelers can begin a simple award search right on American's homepage. Finding an award flight starts like any normal search:
Choose round trip or one way.

Enter your origin and destination airport.

Select the number of passengers

Choose your travel date.
Next, click the checkbox to redeem miles to launch an award search instead of a revenue flight search.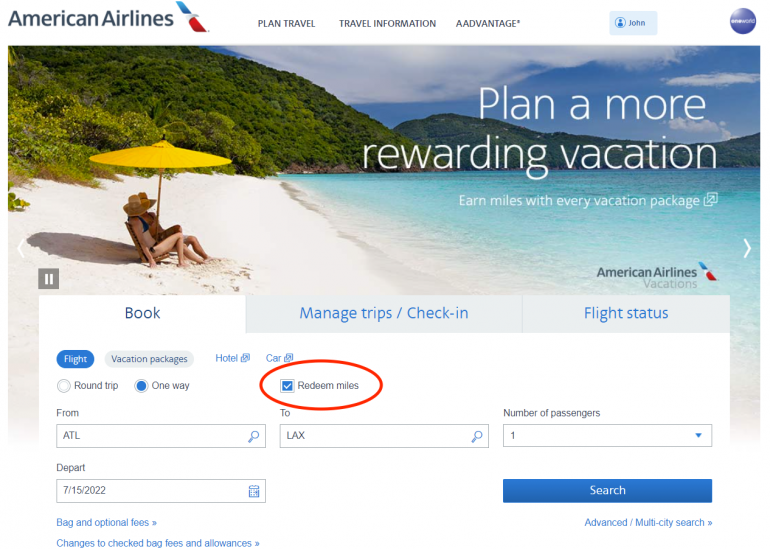 For more advanced search options — such as multi-city awards, business/first class awards or limiting results to American Airlines options — start on American's booking page instead.
American Airlines sorts initial results by the number of stops. Since American can sometimes charge more for nonstop flights, don't be surprised to see some jaw-dropping award rates.
Once you've found available flights, you can sort the results by:
Filters allow you to limit the number of stops and eliminate flights into nearby airports.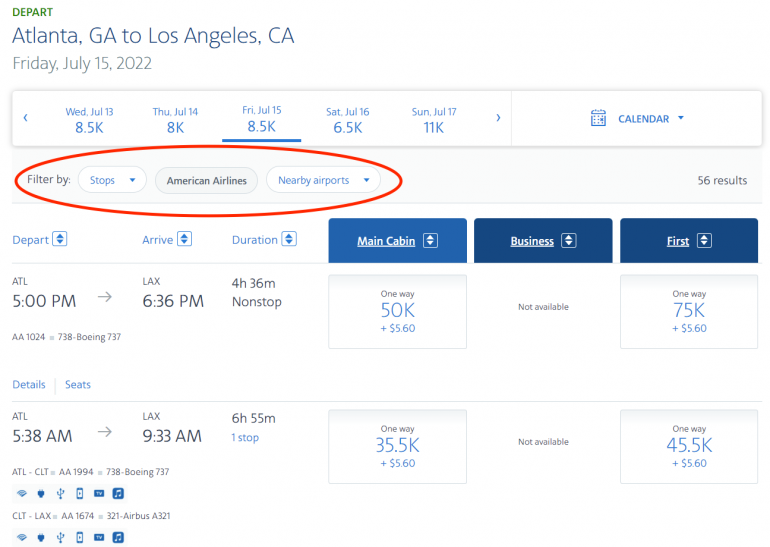 This latter option can come in handy. For example, award searches to or from Los Angeles default to including flights from five different airports in the area:
Hollywood Burbank.

Long Beach Municipal.

Los Angeles International.

Ontario International.

Orange County/John Wayne.
When you search for a flight, American will automatically also display the available award rates within a few days of your selected date. This could show you a potentially cheaper flight option. If your flight dates are flexible, you have another option to find cheap award flights. You can click the Calendar icon to see a box with award rates for that month. You can limit these results by the number of stops, and check pricing by cabin.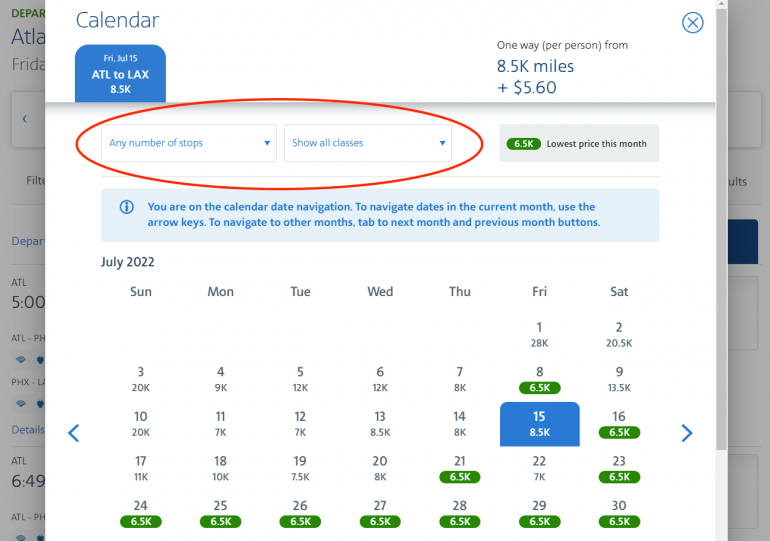 How to search Delta award flight availability
Start your Delta SkyMiles award search on the Delta homepage. Enter your origin and destination airport, dates and number of passengers, then click the Shop with Miles search option. If you're searching for economy awards, click the red arrow button to launch an award search. Otherwise, click the Advanced Search option and select which cabin you want to search.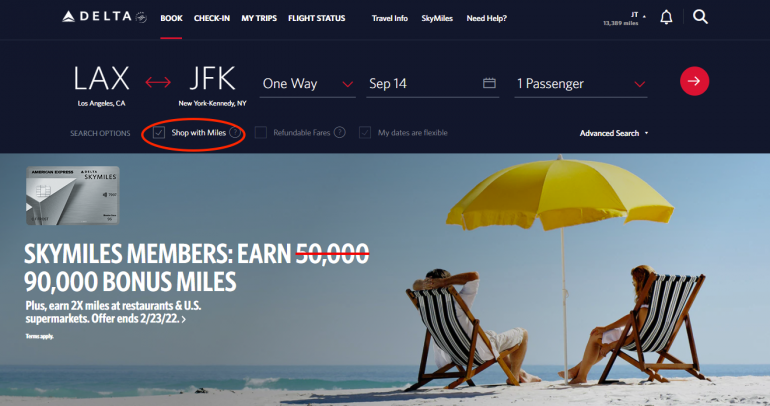 Delta's initial search results will show the date you booked, as well as the three days before and after your selected date. To see even more dates, click the Price Calendar option to see the lowest award prices in a five-week window. Select the date you want to travel and click the Continue button to see the search results.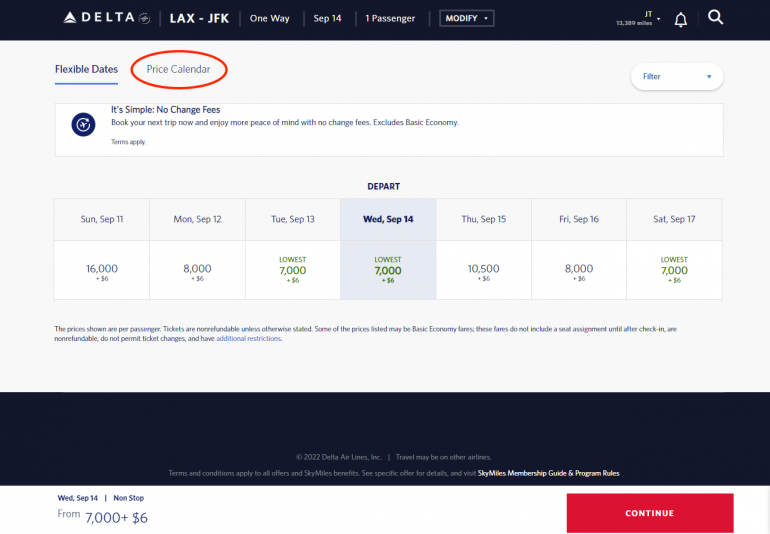 If you want to only consider nonstop flight options, click the Filter menu, select "nonstop" and click apply. Then select which date you want to travel and click Continue.
On the next page, Delta displays all flight options for the date that you searched, sorted by price. You can use the Sort Filter menu to sort by:
Best match.

Number of stops.

Departure time.

Arrival time.

Travel time.

Price by cabin (basic, main cabin, Comfort+, Delta One, etc.).
Or you can limit results by the total mileage cost.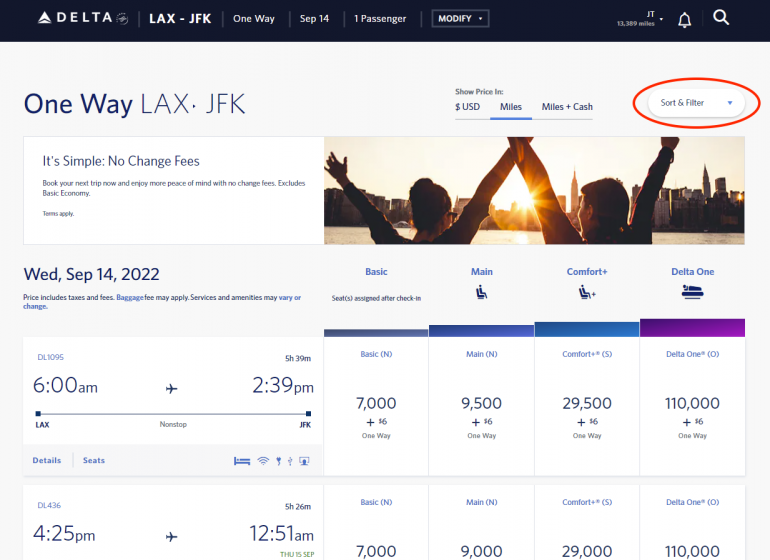 How to search Southwest award flight availability
While some airlines partner with other airlines, Southwest remains a Lone Star. Travelers can search Southwest award availability only on Southwest's website.
If you have particular dates in mind, you can start your Southwest award search on the Southwest homepage. Select round trip or one way. Enter your departure and arrival airport and dates. Make sure to select the Points option before clicking the search button.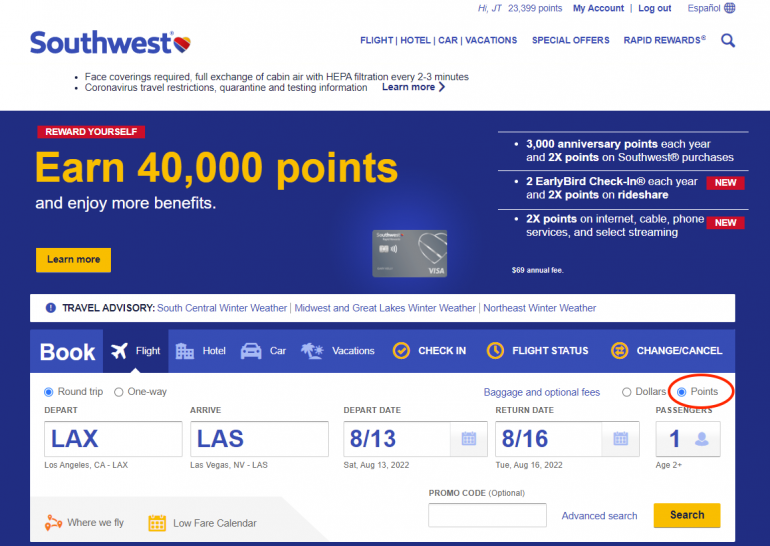 Southwest will display the available awards for your chosen dates. Southwest defaults to sorting the flight results by departure time. But you can change the sort to be by arrival time, price, duration or stops. You also have the option to limit results to only nonstop flights.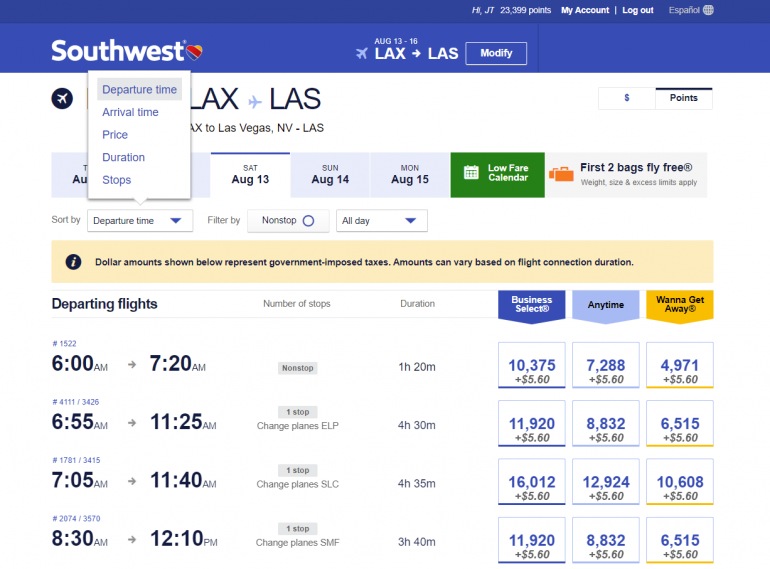 Select the flight(s) you want to book, then click the Continue button to price out the award trip.
Southwest flexible date award search
If your dates are flexible, start your search on Southwest's Low Fare Calendar search page instead. Select round trip, one way or multi-city search. Enter your departure and arrival airport, which month you want to search and the number of travelers. To search award availability, make sure that the points option is selected before you click Search.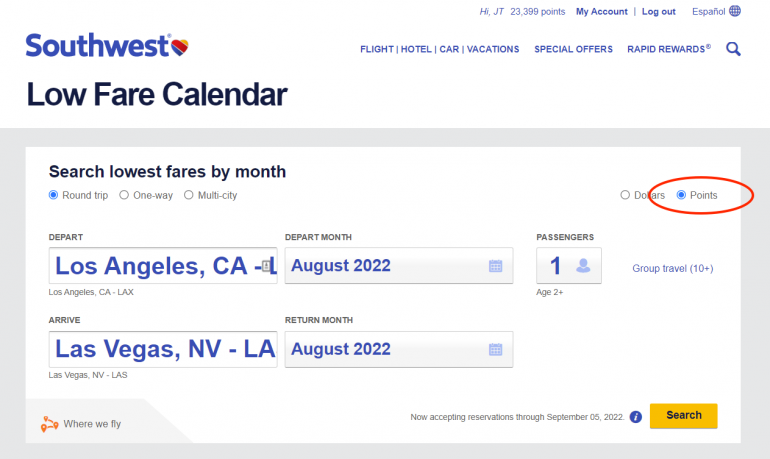 On the next page, you'll see search results for the entire month that you selected. From here, choose the dates you want to depart and return. Then, click the Search button at the bottom to see your options on that date.
From here, the process is the same as a standard search. Sort and select your flights and then continue to book your award.
How to search United award flight availability
United award flights can be searched from the United homepage. Start by:
Choosing either round trip or one way.

Entering your origin and destination airport.

Choosing your travel dates.

Selecting the number of travelers.

Choosing your preferred cabin.
Make sure to check the option to book with miles.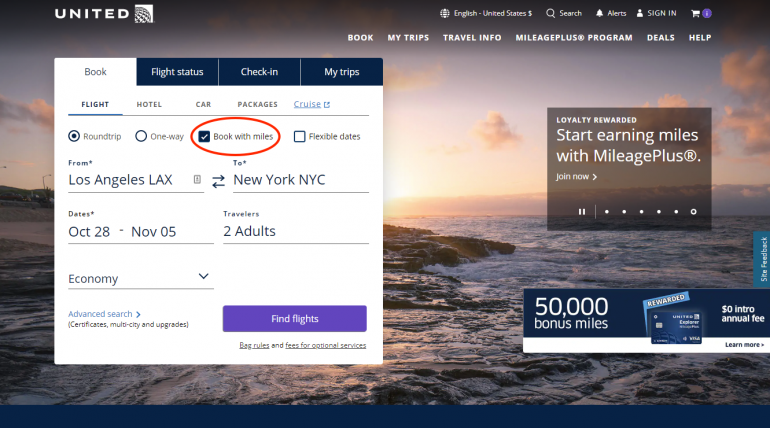 United provides expanded award availability to Premier elite members and United co-branded credit card holders. So to get the cheapest award rates, make sure to log in to your United MileagePlus account. If you aren't already logged in, United will prompt you to do so when starting an award search.
United will sort award results by the cheapest economy awards. A bar at the top of the results also shows economy award rates for three days before and after the date you searched.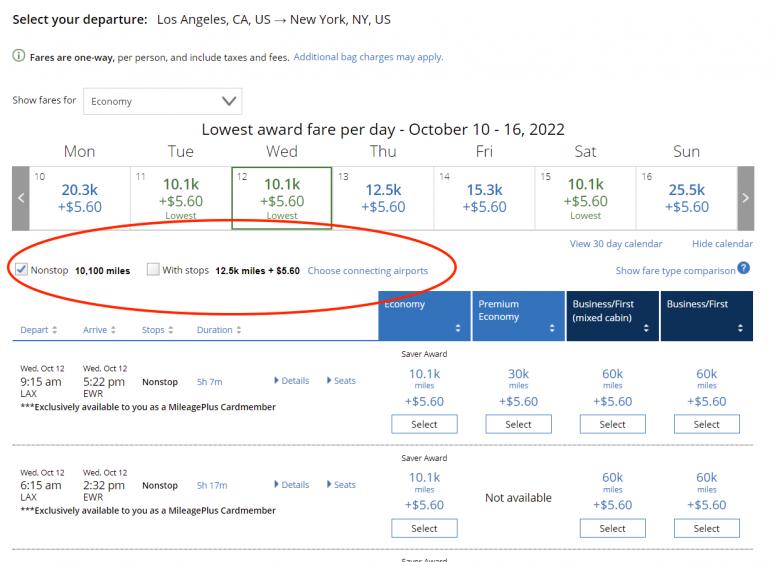 Advanced United award search options include:
Nonstop options: Limit the search results and flexible date pricing to nonstop options by unchecking the box for flights with stops.

Premium cabin awards: If you're considering booking a premium cabin, click the cabin name to sort results by that cabin's prices.

Connecting airports: Don't want to fly through Chicago in the winter? Click the link to choose connecting airports and restrict the search results.
United flexible dates award search
United gives travelers the option to launch a flexible dates award search from the homepage. Select the month you wish to travel and the length of your trip, then click to find your flights.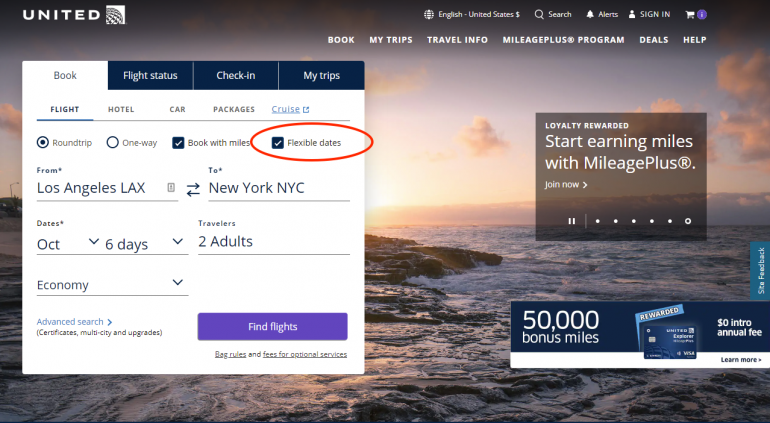 However, there's no need to search using this option to get flexible date results. Instead, after launching any award search, you can click to view a 30-day calendar with award results for up to 15 days on either side of the date that you searched. Remember to uncheck the option for flights with stops if you want to limit the results to nonstop flights.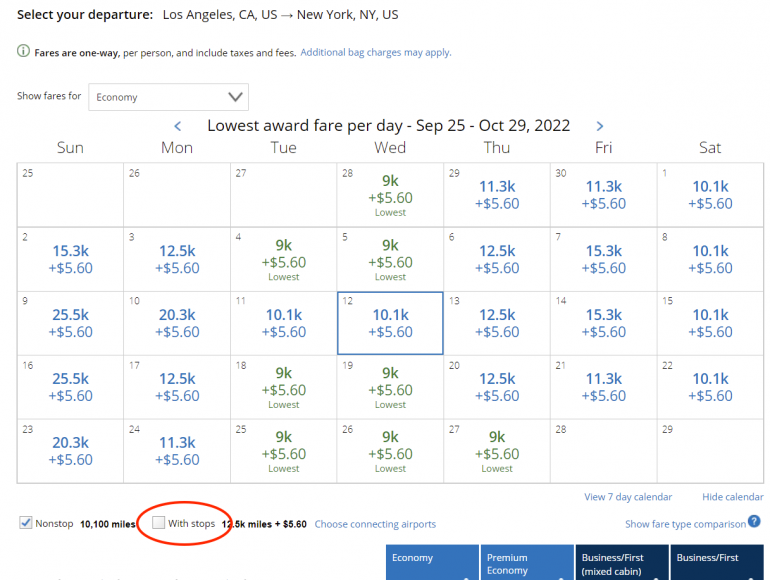 If you're wondering how to search award flight availability
Most airlines let you start your award search right on their homepages. However, the best way to find your optimal flight diverges from there.
With some airlines — like United — you'll want to log in to your mileage account for the cheapest results. Many airlines sort initial award results by lowest price first, but watch out for some airlines that list more-expensive nonstop or earliest-departing flights first.
How to maximize your rewards
You want a travel credit card that prioritizes what's important to you. Here are our picks for the best travel credit cards of 2022 , including those best for: