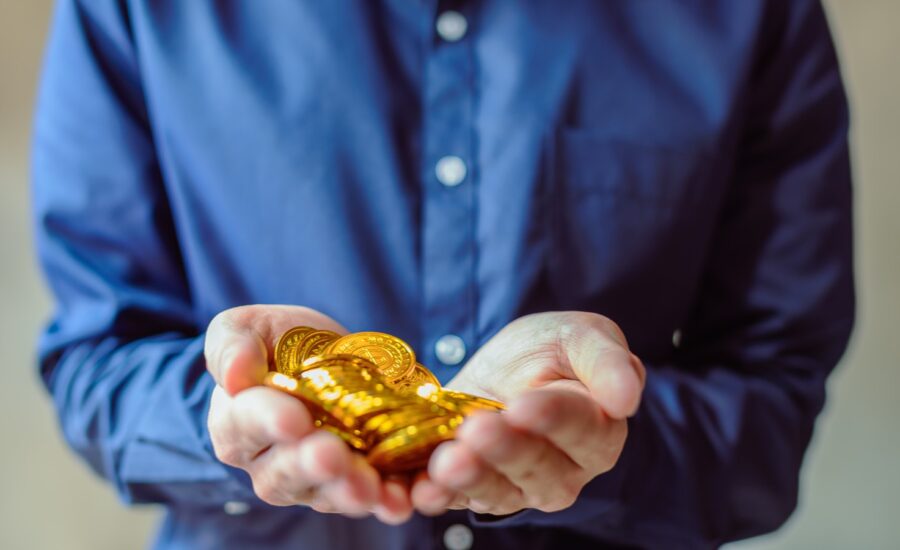 Photo by Aukid Phumsirichat from Pexels
Despite being a relatively new entrant to the burgeoning cryptosphere, polkadot is fast gaining traction and investor attention. Bitcoin and ethereum are still the crown jewels of the US$3 trillion cryptocurrency market, but polkadot (ticker symbol DOT) is swiftly powering its way up the ranks.
DOT first launched publicly just over a year ago, yet this relatively unknown coin has found a place amongst the top 10 crypto heavyweights—a testament to DOT's appeal, utility and technological prowess. This year alone, polkadot has risen from about US$8.50 to its peak of just under US$54 on Nov. 4, ringing up a staggering 500% gain. To put it in dollar terms, if you'd bought $1,000 worth of DOT on Jan. 1, 2021, your investment would be worth $5,000 as of Nov. 4, 2021.
No doubt, the coin's dramatic rise to the cryptoverse's higher echelons is captivating—but is DOT still a promising investment? Let's take a closer look at its features, its potential and how to invest in it through a crypto trading platform such as CoinSmart.
What is polkadot and why is it in the news?
Each cryptocurrency has its own decentralized ledger system, known as a blockchain. Some crypto coins share their name with their blockchain, such as bitcoin, while native coins of some blockchains have their unique name. For instance, the native coin of the cardano blockchain is called ADA.
Polkadot is a new breed of blockchain protocol that connects different blockchains into a single unified network. Unlike rival blockchains that operate on their own, polkadot is designed to serve as a connecting bridge between blockchain networks, making them interoperable. In essence, the polkadot network works as a blockchain of blockchains.
"Interoperability between different blockchain protocols has been a challenge for the industry for many years," says Gaby Hui, director at Merkle Science, a predictive blockchain monitoring and investigative platform that helps crypto companies, financial institutions and government entities prevent illegal activities using cryptocurrency.
This is exactly the problem polkadot solves by creating an internet of interoperable blockchains and building a decentralized web, she adds.
In addition to digital tokens, polkadot also allows data to be transferred across blockchains. This makes polkadot "a true multi-chain application environment where things like cross-chain registries or cross-chain computation are possible," Hui notes.
The polkadot blockchain was created by ethereum co-founder Gavin Wood, who teamed up with Peter Czaban to create the Switzerland-based Web3 Foundation, a non-profit entity that supports the research and development of polkadot.
Polkadot's native token, DOT, made its public debut in May 2020. It is used for operating the network and creating parallel chains by bonding them on an open-source decentralized web.
DOT currently sits in the eighth spot on the crypto ranking, with a market cap of US$38 billion, as of Nov. 24, 2021, per CoinMarketCap. At the time of this writing, there were about 988 million DOT coins in circulation.
Polkadot has a loyal community comprising legions of supporters who believe in its long-term potential. "To date, polkadot has raised about US$200 million from investors, making it one of the most well-funded blockchain projects in history, which naturally attracts the media to cover its every movement," Hui says.
The polkadot team claims that its design will let users perform transactions more privately and efficiently, creating blockchains that make data privacy secure. 
Another reason why DOT has been in the news—and why its price is hitting new highs—is the recent polkadot parachain auction.
The polkadot network consists of two types of blockchains: a main chain, called the relay chain, where all transactions are agreed upon permanently, and user-generated chains, known as parachains.
"In order to participate in parachain auctions, users are buying coins, which is driving up the price," says Yuri Cataldo, a crypto specialist and co-founder of investment firm Athenian Capital.
What sets polkadot apart from other cryptos?
Parachains set polkadot apart from its rival currencies like bitcoin and ethereum, whose blockchains operate independently of other blockchains and are closed-loop networks.
Having multiple lanes to complete transactions speeds them up and eases network congestion. Currently, polkadot can handle 1,000 transactions per second (TPS), which makes it 10 times faster than ethereum. When the implementation of parachains is complete, polkadot is expected to scale up to one million TPS.
Faster transaction speed, interoperability that helps cryptocurrencies interact, and parallel processing power all boost scalability.
"DOT is similar to ethereum in that polkadot aims to create a way for developers to build value on top of their blockchain," says Cataldo. In DOT's case, "they want developers to be able to build on top of all blockchains, not just one."
Another key distinguishing feature is that polkadot can be automatically upgraded without the need for a hard fork to integrate new features and fix bugs. This enables polkadot to easily adapt to changes and upgrade itself as better technologies emerge.
While blockchain upgrades are necessary for technological innovation, hard forks—periodic blockchain updates to improve security and efficiency—require large-scale coordination and agreement among the whole user community, which can create friction and trigger price volatility.
Polkadot offers a better solution with frictionless automatic updates, thus gaining an edge over rival blockchains that are often forced to skip or delay necessary upgrades in order to avoid price swings. 
"Unlike other blockchains that use hard fork upgrades, polkadot uses an automatic on-chain consensus model, similar to a soft fork," Cataldo notes.
Should investors buy DOT?
As investors hunt for greater yield, the effects of central banks' economic stimulus efforts have spilled over from stocks into crypto assets. The resulting run-up in the cryptocurrency market also drove up the prices and popularity of smaller crypto assets, including DOT.
"Polkadot is one of the most promising projects in the blockchain space, naturally making it one of the tokens that investors will invest in," predicts Hui, noting that many investors are now looking beyond bitcoin.
Long-term investors find DOT particularly attractive for its blockchain-uniting technology. The feature "will become really important for blockchains to be able to communicate with each other in the long run, making polkadot a sound investment," Hui argues.
She stresses, though, that DOT is a good token to hold for the long run, not for short-term trading, nor is it for investors with a lower risk capacity.
"It's never a good idea for someone who has no money to invest in crypto, as it is highly speculative and risky," Hui cautions, but she maintains that "compared to other altcoins, polkadot is relatively safe, supported by a strong community and team, and its proposition is strong."
While polkadot's past performance is not an indicator of future gains, "more projects are being built on DOT, and it's being used in parachain auctions, which means the tokenomic model of the coin is expanding and investors need to use it to buy other coins," says Cataldo.
These are but a few indicators of the coin's value proposition and future prospects.
Where to buy polkadot
Purchasing polkadot directly at a crypto trading platform is the only option available for investors looking to add DOT to their portfolios. Canadian investors can buy polkadot at one of several U.S.-based or Canadian platforms that facilitate hassle-free purchase of digital assets, including DOT, in Canadian dollars.
It's important to choose your trading platform carefully. While they all provide access to crypto, they can vary significantly in their terms and conditions, features, safety protocols, technology, transaction fees, funding options and transfer and withdrawal mechanisms.
A Canadian platform that ticks many of these boxes is CoinSmart, a publicly traded company (ticker symbol SMRT) that facilitates the buying, holding and selling of polkadot and other cryptocurrencies.
CoinSmart's rigorous safety protocols shield investors' assets from unauthorized access. It stores almost all of its assets in "cold wallets," an offline safeguard with private keys. Cold storage is widely considered the safest and most advanced technique to stave off cybercrime.
You can start by creating an account and having it verified instantly. Then fund your CoinSmart digital wallet with a simple Interac e-transfer from your Canadian bank account, or pay for your CoinSmart purchases with your credit card, cryptocurrency you already own or a bank draft. Deposits are credited to your CoinSmart account the same day they're received.
Seasoned investors can enjoy an enhanced trading experience by taking advantage of CoinSmart's Advanced Trade feature, which allows you to customize orders.
CoinSmart's competitive fee structure offers low or $0 fees for transactions, including deposits, withdrawals and trading. What's more, you can earn a  $15 bonus when you refer a new user to CoinSmart—once your account has been verified, you can share your referral link. When new users make a deposit, you get $15 and so will they.
Final word on polkadot
Some crypto watchers refer to polkadot as "ethereum killer," not only because of its potential to disrupt the blockchain industry, but also due to ethereum's high transaction fees.
As well, polkadot offers real-world use cases and solves important blockchain issues including transaction speed, interoperability and cost.
For these reasons, many crypto investors are bullish on DOT's long-term potential for above-average returns. If you've been on the fence about committing to DOT, now may be as good a time as any to start a position.