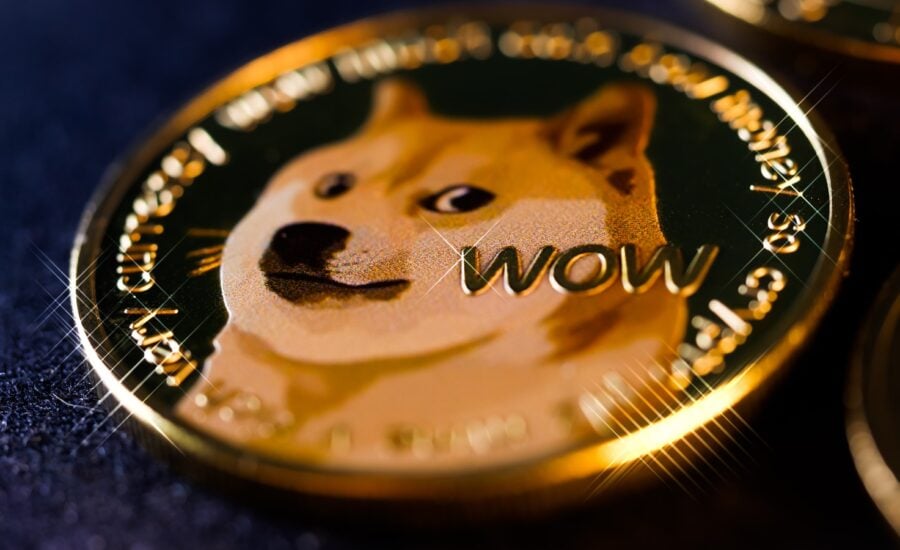 Photo by Rūdolfs Klintsons from Pexels
A flurry of celebrity shoutouts, dramatic headlines and social media chatter this year has created a buzz around cryptocurrencies. The steep and spectacular rise of crypto heavyweights bitcoin and ethereum lifted the value of many smaller coins, whose price movements are often tidally locked to larger peers.
One such small cryptocurrency is dogecoin, or DOGE, a digital coin known until recently only to a small community of devout crypto enthusiasts. This year, the coin really exploded onto the mainstream crypto market, fuelled by millennial and Gen Z investors and celebrity interest. The virtual coin's value has skyrocketed more than 5,400% for the year to date, going from $0.004 apiece to $0.22, as of Nov. 29. For perspective, $1,000 of dogecoin bought on Jan. 1, 2021, was worth more than $54,000 as of Nov. 29, 2021.
That meteoric ascent—albeit one with frequent and wild fluctuations along the way—continues to garner widespread interest and social media chatter, drawing even more investors.
If you're intrigued by the thrill of low-stakes, high-gain dogecoin play, take a moment to understand what it is, whether it belongs in your portfolio and how to purchase it.
What is dogecoin and what's all the fuss about?
Dogecoin is one of thousands of cryptocurrencies in existence. It was minted in 2013 as a joke by software engineers Billy Markus, back then an IBM employee, and Jackson Palmer, who works at Adobe. They named dogecoin after a popular meme featuring a Shiba Inu dog.
The token went largely unnoticed, and its performance remained unremarkable, for years. However, over time it gained a following, which improved its visibility and market value. This year, dogecoin's market capitalization shot past US$36 billion. Currently, it's the 10th most-valued crypto, according to CoinMarketCap's ranking, as of Nov. 29.
The sharp increase in dogecoin's popularity can be attributed to investor frenzy stoked by high-profile celebs, led by Elon Musk, the multibillionaire mogul behind Tesla and SpaceX, as well as rapper Snoop Dogg, rock star Gene Simmons and entrepreneur Mark Cuban. The relentless social media promotion by these influential names has pushed the price of dogecoin to record highs.
"Dogecoin has and is likely to continue making headlines as a result of its extremely passionate community, and the slew of support it has received from mainstream figures, most notably Elon Musk, who spearheaded the cryptocurrency across platforms like Twitter," says Charles Hayter, CEO and co-founder of cryptocurrency data provider CryptoCompare.
Unlike other digital currencies, dogecoin has no hard cap on the number of coins in circulation. Experts say this will help maintain the incentive to mine.
These factors, combined with general market sentiment and dogecoin being listed on a growing number of crypto trading platforms, "have worked to create a perfect storm that pushed dogecoin into the limelight," Hayter says.
More recently, investors have been flocking to it because of social factors and the fear of "missing another parabolic run," says Hayter. Dogecoin is the perfect example of "the value and utility that vibrant and passionate communities can create as an extension of the asset itself, which is something that dogecoin has encapsulated."
It is also claimed that as a joke coin, DOGE provided some comic relief to anxious investors run haggard by the pandemic. During these stressful times, "the idea of a coin that was created as a joke and continues to be the inspiration for laughter is appealing to many in this day and age," says Mati Greenspan, founder and CEO of Quantum Economics, which provides FinTech analysis, advisory services and money management.
Yet, the coin's steadily growing popularity and price indicate the investing community is getting serious about DOGE.
Should investors buy dogecoin?
A combination of media hype, relatively low stakes and solid performance makes dogecoin quite an attractive proposition for many investors.
With year-to-date gains in excess of 6,000%, DOGE has far outstripped its larger peers including bitcoin, ethereum and cardano. While past performance is no guarantee of future gains, for many investors dogecoin's outsized returns have proved to be the ticket to a bitcoin-like windfall.
However, investors should temper their expectations with a touch of practicality. While dogecoin's attractiveness is understandable, it is undeniably a risky bet, so the usual investing caveats apply. "The current value of DOGE does include a high level of speculation that the network will continue to grow at a rapid pace," says Greenspan.
He insists that DOGE only makes sense "as part of a well-diversified portfolio," and he reminds investors that "the golden rule of all investments, especially high-risk cryptocurrencies, is to never invest more than you can afford to lose."
That's not to say dogecoin is necessarily "bad" for the cryptocurrency space, where driving adoption remains one of the biggest challenges. "As is evident from the social data alone, it is highly likely that DOGE has helped introduce thousands of new people to cryptocurrencies this year," Hayter notes. 
As for buying DOGE, he recommends dollar-cost averaging—buying a little at a time instead of investing a lump sum—for most retail investors. For more advanced investors, though, it usually pays to take a contrarian view. "Buy when the price is falling and not for fear of missing out while the price is surging," says Greenspan.
While it's hard to predict the direction of the crypto market, its outlook remains optimistic. The variables underpinning wild run-ups in dogecoin prices—the mainstreaming of digital currencies, ultra-low interest rates, social media amplification and the emergence of online brokerage platforms—appear set to remain for the foreseeable future.
However, with exponential growth comes significant risk. "It is critical that investors do their own research before investing in any asset class," Hayter cautions.
Where to buy dogecoin
While investors can gain access to crypto assets through mutual funds or ETFs, there are none that provide exposure to dogecoin. The only way investors can get into dogecoin is by holding it directly, and the easiest way to buy it is via a crypto trading platform.
There are several Canadian and U.S.-based platforms that facilitate crypto purchases in Canadian dollars. Before you buy, carefully review each platform's terms and conditions, features, safety protocols, technology, transaction fees, funding options, and transfer and withdrawal mechanisms.
One platform that ranks high on many of these parameters is CoinSmart, a publicly traded company (ticker symbol SMRT) that facilitates buying, holding and selling dogecoin and a range of other cryptocurrencies.
The platform's robust safety mechanism protects investors' assets from the threat of cybercrime and cryptotheft. Nearly all of CoinSmart's currency is stored in "cold wallets," an offline safeguard with private keys to investors' assets. Cold storage is regarded as the safest and most advanced technique to keep dogecoin and other cryptocurrencies secure and out of criminals' reach.
To get started, you can create an account and have it verified instantly, then fund your CoinSmart digital wallet with an e-transfer from your Canadian bank account. Alternatively, you can pay for your CoinSmart purchases using your credit card, cryptocurrency you already own or a bank draft. Deposits are credited to your CoinSmart account the same day they're received. For seasoned investors, the Advanced Trade feature allows you to customize orders for an enhanced trading experience. 
CoinSmart's enviable fee structure offers low or $0 fees for transactions, including deposits, withdrawals and trading. You can even earn $15 when you refer a new user to CoinSmart—once your account has been verified, you can share your referral link. When new users make a deposit, you get a $15 bonus and so will they.
Final word
With Canada being the world's crypto hotspot, not to mention the first nation to approve cryptocurrency ETFs, interest in cryptocurrencies like DOGE is only going to intensify. In the absence of any traditional investment vehicles that offer dogecoin exposure, buying it directly may be the only option for Canadian investors. It is, therefore, even more important to choose a platform that is easy to use, meets and exceeds regulatory requirements and offers peace of mind by keeping your funds and assets safe and secure.