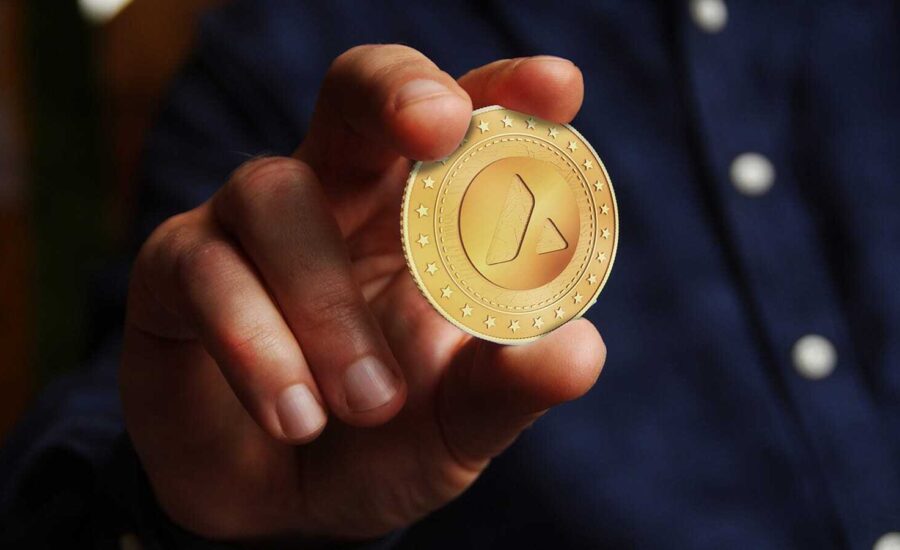 Photo by Skorzewiak from Shutterstock
Cryptocurrencies took another giant step towards legitimacy in the wake of Russia's invasion of Ukraine. Crypto threw a lifeline to people desperate to cross national borders at a time when the financial system became strained, fiat currencies depreciated swiftly and access to physical money was limited.
For this purpose—as well as innovations in decentralized finance (DeFi)—digital currencies are gaining ground on the slower, costlier and more restrictive traditional financial system.
Investors looking to tap into this trend may want to take a close look at the Avalanche blockchain, which has applications in fast-growing areas of the cryptoverse. Its native coin, AVAX, offers a way to participate in crypto's growth without spending large sums on bigger coins like bitcoin and ether.
At the time of this writing, AVAX was the tenth-largest crypto, with a market cap just shy of $23 billion (all figures in U.S. dollars), per CoinGecko. AVAX started 2021 at about $3 in value and hit $114 by year's end—an eye-watering 3,250% gain—far outpacing its bigger peers like bitcoin (575%) and ether (375%).
As of April 6, 2022, the value of one AVAX coin was $85.38. AVAX has about 268 million tokens in circulation. Here's what you need to know about AVAX and where to buy it.
What is Avalanche?
Avalanche is a proof-of-stake (PoS) blockchain platform that hosts decentralized applications (dApps) and custom blockchain networks. It's also one of the fastest smart contract platforms. Smart contracts are self-executing agreements that live on the blockchain and are pivotal to running DeFi applications and non-fungible tokens (NFTs).
Avalanche and AVAX are run by Ava Labs, which was founded in 2018 by Cornell University professor Emin Gün Sirer, former Microsoft software engineer Kevin Sekniqi and Cornell University computer science PhD Ted Yin.
To understand the platform's potential, we need to get a little technical. Avalanche is a Layer 1 (L1) blockchain. Layer 1 refers to a base network, such as Bitcoin or Ethereum, and its underlying infrastructure.
"Ethereum rival Avalanche is the first smart contract platform that can confirm thousands of transactions in less than a second, promising high throughput of 4,500 transactions per second (tps)," says Leena ElDeeb, a research associate at crypto fund manager 21Shares. In contrast, Bitcoin and Ethereum can confirm an average of 5tps and 2.39tps, respectively, she adds.
Avalanche is quickly taking market share away from Ethereum and has attracted significant funding, which it's using to bolster its ecosystem, JPMorgan recently told investors.
"Avalanche has a vibrant ecosystem akin to Ethereum's from a few years ago," says ElDeeb. "With [nearly] $10 billion in total value locked, Avalanche has over 100 decentralized applications spanning DeFi, gaming and NFTs."
The rise of Avalanche dApps, she adds, is widely attributed to the native programming language's compatibility with the Ethereum Virtual Machine (EVM), a computation engine at the core of Ethereum's operating structure that runs execution and smart contract deployment.
Moreover, the gas fees on Avalanche are considerably lower than on Ethereum, which removes another barrier for existing Ethereum developers. (Users must pay a gas fee to perform any function on the Ethereum blockchain.)
Avalanche has proven to be a solid project, says Ed Hindi, chief investment officer of Tyr Capital, a Swiss-based cryptocurrency hedge fund. "Its recent performance is a vote of confidence by a wide range of smart crypto players."
The Avalanche blockchain is relatively young compared to the largest L1 network, Ethereum, so software bugs might emerge, as was the case with Bitcoin and Ethereum in their early days. For that reason, "investors' time frame for Avalanche should ideally be at least five years," ElDeeb contends.
Is AVAX a good investment in 2022?
AVAX is now among the top 10 cryptos by market capitalization. Crypto experts see it as one of ether's most serious rivals.
"We believe 2022 is going to be a strong year for crypto," Hindi says, adding that investing in the top 10 projects, including Avalanche, is "one of the safest ways to capitalize on the crypto momentum."
As an alternative asset, AVAX fits into a portfolio alongside bitcoin and ether. Drawing a traditional finance analogy, ElDeeb likens bitcoin to gold, "while Ethereum and Avalanche would be deemed high-tech growth assets shaping the application layer of the next generation of Internet services, Web3."
AVAX is currently trading below its all-time high, and its growth prospects remain compelling. ElDeeb argues there are four key areas of growth across the Avalanche ecosystem: DeFi, enterprise applications, NFTs and gaming applications. Last year, the Avalanche Foundation launched a $200-million fund dedicated to development, growth and innovation on the network.
What the future holds for AVAX
"The market has barely witnessed the potential of innovation that can take place on top of Avalanche networks," ElDeeb contends.
In March, Avalanche announced Avalanche Multiverse, a $290-million incentive program that will foster the development of app-specific subnet blockchains targeting DeFi, gaming and NFTs.
"Once they're fully integrated and operating, the feature will invite a much wider spectrum of investors and builders [and] accelerate the growth of the network's vibrant ecosphere of NFTs and DeFi dApps," says ElDeeb. All of this bodes well for AVAX's price potential.
Buying AVAX with Canadian dollars
Investors can buy AVAX at CoinSmart, a fully regulated Canadian crypto trading platform. It is also one of only two in Canada with marketplace registration status.
The platform has a simple and transparent fee structure, and customer support is available 24/7. CoinSmart's Advanced Trading Tools, such as limit orders and stop-loss orders, provide greater flexibility for seasoned investors.
Opening a CoinSmart account is straightforward, and investors can access funds the same day they make a deposit. Sign up for an account* with the code money30 and receive CAD$30 in bitcoin when you deposit a minimum of CAD$100. 
Bottom line
Any investor allocating money to crypto assets, including AVAX, should understand they are highly speculative. Cryptocurrency investing is not for the faint of heart, and investors must weigh the perils against potential payouts.
Read more about crypto:
What affects the price of bitcoin?
How to buy Solana (SOL) in Canada
Best cryptocurrencies to invest in for 2022
What does the * mean?
If a link has an asterisk (*) at the end of it, that means it's an affiliate link and can sometimes result in a payment to MoneySense (owned by Ratehub Inc.) which helps our website stay free to our users. It's important to note that our editorial content will never be impacted by these links. We are committed to looking at all available products in the market, and where a product ranks in our article or whether or not it's included in the first place is never driven by compensation. For more details read our MoneySense Monetization policy .