physixfan       2022-10-05     2022-10-05
2022.10 Update: The 80k+$95 offer is back.
2022.8 Update: The offer is 70k now.
2022.5 Update: The new offer is 80k+$95! This is the best ever offer on this card.
Application Link
Barclays AAdvantage Aviator Business
Benefits
80k+$95 offer: earn 80,000 AAdvantage Miles and $95 statement credit after spending $2,000 within the first 90 days. This is the best ever offer on this card.
5% AAdvantage mileage bonus earned every year after your account anniversary date based on the total number of miles earned using your card. Note that this benefit does not exist for the personal Barclays AA Aviator Red.
We value AA Miles at 1.5 cents/point (Airline Miles Value), so the 80k+$95 highest sign-up bonus worth about $1,295! See A Beginner's Guide to AA Miles to check for details about AA Miles.
Earn 2 AAdvantage miles per $1 spent on eligible American Airlines purchases and on office supply, telecom and car rental merchants, earn 1 AAdvantage mile per $1 on other purchases.
First checked bag free on domestic American Airlines flights for you and up to four companions.
Priority boarding on American Airlines flights.
25% savings on eligible in–flight purchases using card.
Earn $3,000 Elite Qualifying Dollars when you spend $25,000 on purchases each calendar year. [Update: this benefit is no longer there.]
Earn a companion certificate good for 1 guest at $99, issued each year after your account anniversary when you spend $30,000 or more on eligible purchases (taxes and fees apply).
No foreign transaction fee.
Disadvantages
$95 annual fee, NOT waived for the first year.
Recommended Application Time
Barclays value the number of recent hard pulls a lot, we recommend you apply when you have less than 6 hard pulls in the past 6 months.
[6/24 rule] Similar to Chase 5/24 rule, Barclays will reject your application if you have 6 or more new accounts in the past 24 months. Note that this is a soft rule for Barclays.
We recommend you apply for this card after you have a credit history of at least one year.
Existing cardmembers, existing accounts, and previous cardmember with accounts closed in the past 24 months may not be eligible for this offer.
Summary
Overall, this card is similar to the personal Barclaycard AA Aviator Red. The sign up bonus is very good and it only requires one purchase, so it's a good card to get.
Citi AAdvantage MileUp
Citi AAdvantage Platinum
Citi AAdvantage Executive
CitiBusiness AAdvantage Platinum
Barclaycard AAdvantage Aviator Red
Barclaycard AAdvantage Aviator Silver
Barclaycard AAdvantage Aviator Business (this post)
Recommended Downgrade Options
You can not downgrade this card to any card.
After Applying
Click here to check Barclays application status.
Barclays reconsideration backdoor number: 866-408-4064. Barclays tends to ask various questions and you must know all the answers about personal information and credit report. Besides, you may get HP again, but will be informed in advance. Therefore, think carefully before calling.
Historical Offers Chart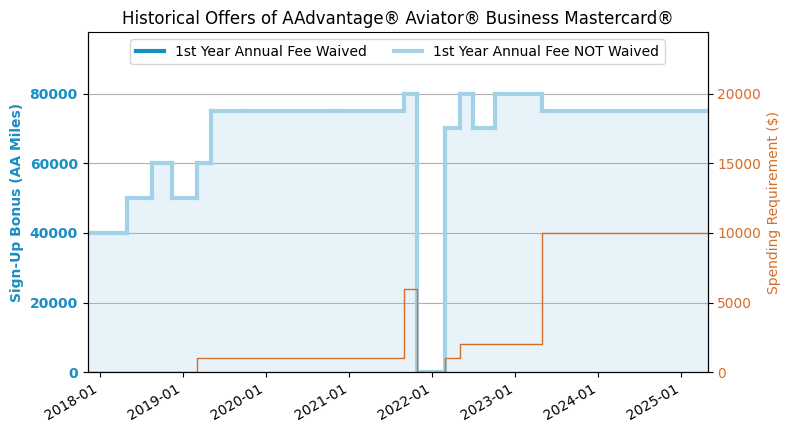 Application Link
Barclays AAdvantage Aviator Business
Share this post with friends
If you like this post, don't forget to give it a 5 star rating!
[Total: 5   Average: 3.2/5]
Disclaimer: The responses below are not provided or commissioned by the bank advertiser. Responses have not been reviewed, approved, or otherwise endorsed by the bank advertiser. It is not the bank advertiser's responsibility to ensure all posts and/or questions are answered.