physixfan       2023-02-09     2023-02-09
Non-affiliate disclosure: all information about the this card have been collected independently by US Credit Card Guide and has not been reviewed by the issuer.
2023.2 Update: The new offer is 100k. Offer ends on 4/5.
2022.10 Update: The higher offer is expired. Currently there's only 80k offer. It's better to wait for the bigger offer to appear again.
2022.8 Update: The 100k+$100 offer is back. This offer ends on 10/26.
Application Link
Benefits
100k offer: earn 100,000 Honors Points after spending $2,000 in first 6 months. The recent best offer is 100k+50k.
We value Hilton Honors Point at 0.4 cents/point (Hotel Points Value), click here to see how many points are required for a reward night. Therefore, the 100k welcome offer is worth about $400.
Earn 7 Hilton Honors points per $1 spent on hotel stays within Hilton Portfolio; 5 points on US restaurants, US supermarkets, and US gas stations; 3 points on other purchases.
Complimentary Hilton Silver status for the cardholder. Upgrade to Hilton Gold status when you make $20,000 or more in purchases each calendar year.
No annual fee! This is quite rare in hotel credit cards.
With this credit card, you can get access to Amex Offers, which often offers very good discounts at some stores. In the past we have seen offers like: Spend $15 or more and get $5 back at Walmart; Spend $75 or more and get $25 back on Amazon.com.
Refer a friend: You can earn 10,000 bonus Hilton points for every approved account you refer, up to 80,000 Hilton Points per calendar year.
No foreign transaction fee.
Disadvantages
The 5x bonus categories are limited within the United States.
Recommended Application Time
Note that AmEx has a policy: If you currently or have previously held a specific AmEx credit card, you will not be eligible for the welcome bonus offer. So if you want to squeeze the highest rewards from credit cards, you should apply for the welcome offer first, and then take the upgrade offer, and then possibly go on upgrading/downgrading.
You can only get the welcome bonus once in a lifetime, so be sure to apply when the historical highest offer appears.
AmEx doesn't tend to care about the number of hard pulls.
You should try to apply for it once you have a credit history of 6 months.
Only 2 AmEx credit cards can be approved within 90 days, but this rule does not apply to charge cards. Multiple cards approved in the same day will only have one Hard Pull.
You can keep at most 5 AmEx credit cards, but this rule does not apply to charge cards.
Summary
The sign-up bonus is decent, so it's worth applying. Because it has no annual fee, it is a good downgrading option, and there's no harm to keep for long time. You may also see good upgrade offers on this card from time to time.
AmEx Hilton (this post)
AmEx Hilton Surpass
AmEx Hilton Aspire
AmEx Hilton Business
After Applying
Click here to check AmEx application status.
AmEx reconsideration backdoor number: 877-399-3083. The "real" backdoor number of Amex is well protected. Different from Chase, the representatives from this AmEx reconsideration backdoor number only have the right to help you submit requests.
Historical Offers Chart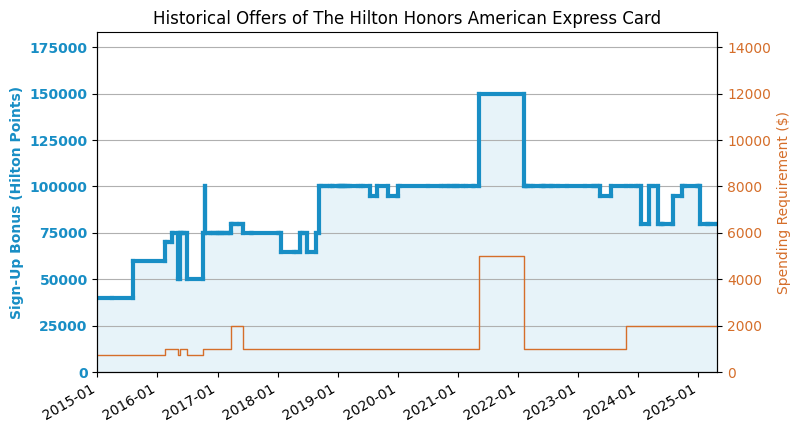 Application Link
Share this post with friends
If you like this post, don't forget to give it a 5 star rating!
[Total: 11   Average: 3.9/5]
Disclaimer: The responses below are not provided or commissioned by the bank advertiser. Responses have not been reviewed, approved, or otherwise endorsed by the bank advertiser. It is not the bank advertiser's responsibility to ensure all posts and/or questions are answered.