From acquiring Starwood Preferred Guest to overhauling the award chart for free nights, the Marriott Bonvoy program has changed in recent years.
If you've collected points with this hotel loyalty program, whether through work travel or through credit card spending, you might be wondering how to redeem them. The most obvious way is for free hotel nights, but there are other options for how to use Marriott points.
How to redeem Marriott points for free nights
As a Marriott Bonvoy member, you can redeem your Marriott points for free nights at 30 different brands , including but not limited to:
Marriott's more than 7,000 properties are split into eight award categories, each requiring a certain number of Bonvoy points per night. The higher the hotel category, the more points you need for an award night.
Each category offers off-peak, peak and standard rates so you can easily find the hotel that best fits your point spending needs. From 5,000 to 100,000 points per night, you can find the rate that's right for you.
For example, say you're going to Paris and want to redeem Marriott points for free nights.
Go to marriott.com, log in to your Bonvoy account, enter Paris in the search box, your preferred dates of travel, the number of rooms and the number of guests per room. Check the Use Points/Certificates box and click the Find Hotels button.

The search tool will bring up all the hotels available in your selected area. Each lists a hotel category, so you can expect how many points you have to redeem per night, and the total number of points required for the length of your stay.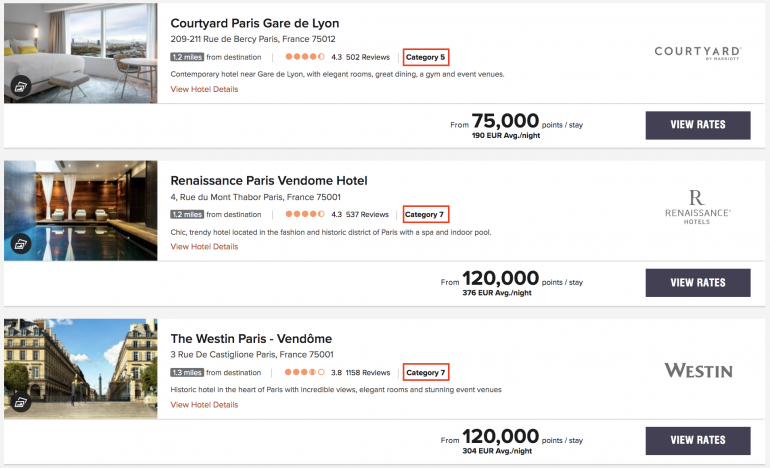 Once you pick your preferred property, select View Rates. On the next page, you'll find the rooms available with points.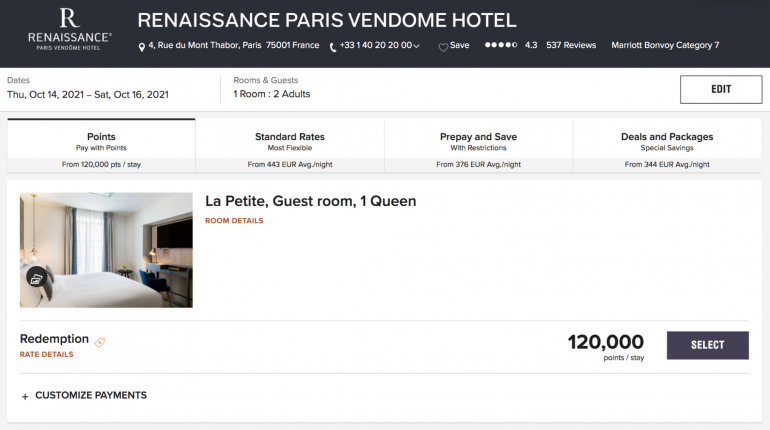 If you want to pay for some of your nights with points and for some with cash, click on Customize Payments and select your cash-and-points combination. This is useful if you have enough points for just one or two nights and want to stay longer, so you can mix your payments on a single booking.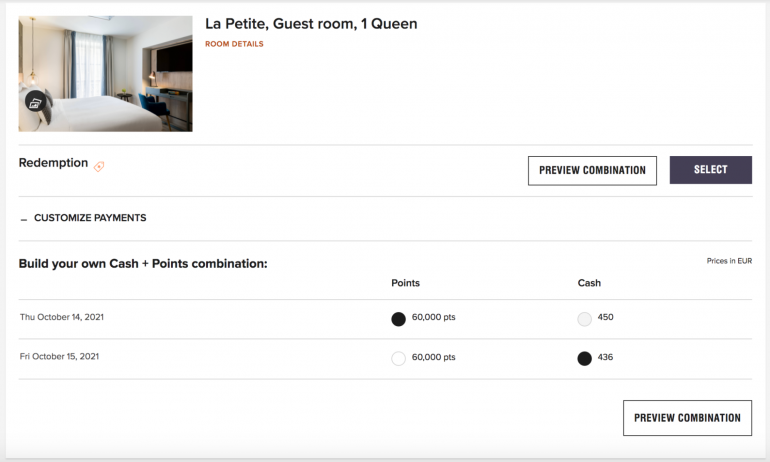 Nerdy tip: Marriott offers a fifth-night-free benefit on award bookings of five nights at the same property. When you book five consecutive nights on points, the lowest-point-value night will be given to you for free. In other words, booking either four or five nights will cost you the same number of points, so you might as well book a longer stay.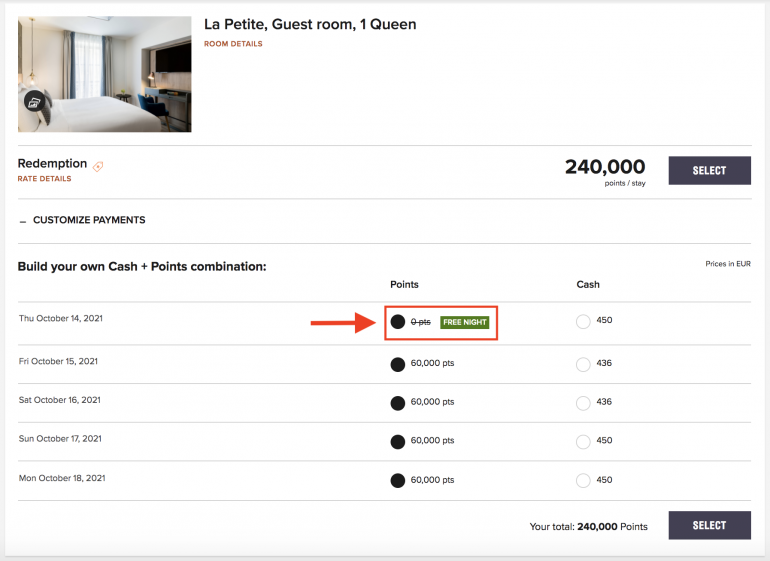 On the next page, confirm the reservation details and book your stay.
How to redeem Marriott points for award flights
Marriott points aren't only good for hotel nights. You can transfer them to more than 40 partner airlines and take it to the skies.
You can transfer as few as 3,000 points and as many as 240,000 points per day, and the names on your Marriott account and your frequent flyer account must match for most partners.
Points transfer at a 3:1 ratio to most airline programs, and you get an additional 5,000 miles for every 60,000 Marriott points you transfer. In this case, transferring 60,00 points will net you 20,000 airline miles with an additional 5,000-point bonus, for 25,000 points total. A 240,000-point transfer will net 100,000 miles in your airline account.
Nerdy tip: Marriott Bonvoy has a preferred partnership with United Airlines MileagePlus, and you get an additional 10% bonus for transferring your Bonvoy points to United.
To convert your Bonvoy points to airline miles, start here , log in to your Marriott account and click on Transfer Points.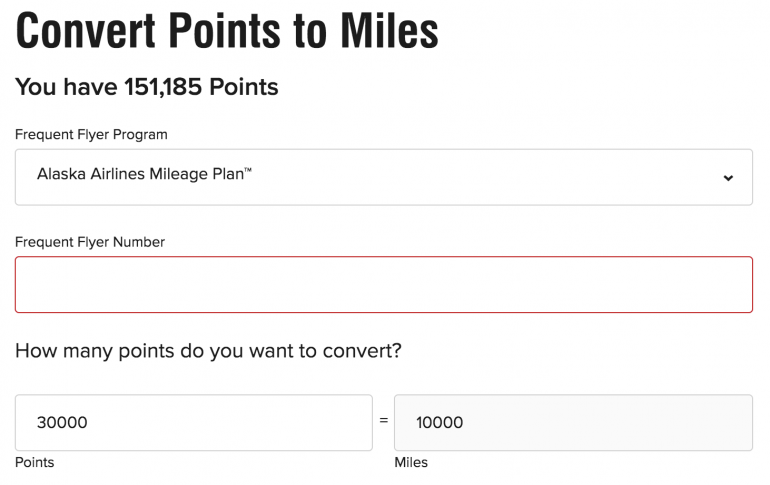 Fill out the transfer form with the frequent flyer program where you'd like the points to go, your frequent flyer number and the number of points you want to convert. Click Continue and confirm your transfer.
How to redeem Marriott points for Hotel + Air Packages
Marriott Hotel + Air Packages include a vacation bundle consisting of hotel nights and airline miles. By redeeming the following number of points, you'll receive seven nights at a hotel of a certain category plus frequent flyer miles in the program of your choice (as long as it's one of the participating partners).
The total cost of the package depends on the category of hotel you plan to book.
If your airline of choice is United, you'll receive a 10% bonus on your miles, which increases the first package option to seven nights plus 55,000 miles, and the second package option to seven nights and 110,000 miles.
Be careful with this redemption method. Although in some cases you'll come out ahead by booking a Hotel + Air Package with Marriott and get more miles with an airline versus doing a direct transfer, you'll lose out in the conversion with most hotel categories. Make sure to crunch your numbers before redeeming Marriott points for one of these packages.
To redeem Marriott points for a Hotel + Air Package, call an agent for help at 800-321-7396.
How to use Marriott points for gift cards
This may not be the most efficient way to redeem your Marriott points, but it is possible to redeem them for merchant gift cards. The reason it's not a great use of your Bonvoy points is their value drops dramatically with this redemption method.
For example, Amazon is offering a $25 gift card in exchange for 10,000 Bonvoy points, a $50 gift card for 17,500 points, and a $100 gift card for 30,000 points.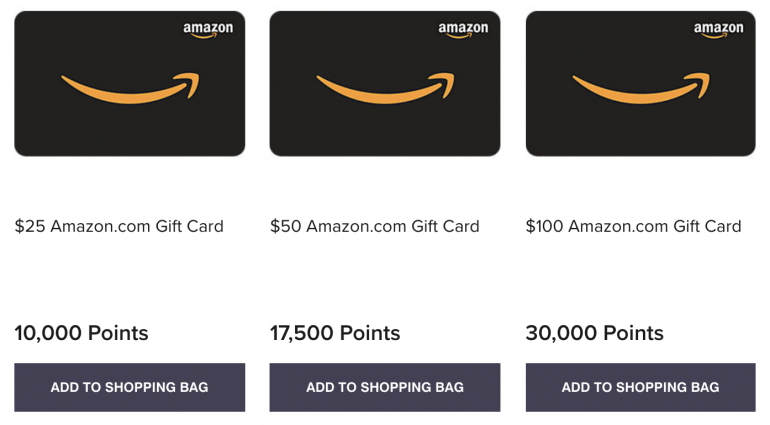 In this case, your points are worth just 0.25 to 0.33 cents apiece. When you redeem them for a hotel stay, they're worth about 0.7 cent per point, according to NerdWallet's latest valuation . Redeeming points for gift cards may be convenient but point value will be lost along the way.
How to use Marriott points for merchandise
This is also not a great way of redeeming your Marriott points, but it's possible to use them to buy products from about 200 merchants, including Apple, Dyson, GoPro, HP and Nintendo.
Let's use this GoPro HERO9 Black camera as an example.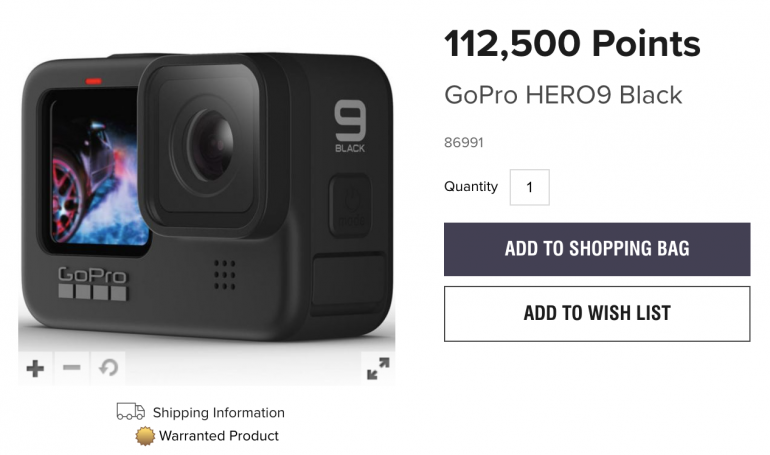 If you were to buy it using your Marriott points, it'd run you 112,500 points. GoPro is selling the same camera on its website for $349.98. If you exchange your points for this product, they're worth just 0.3 cent per point — less than half of their average value.
You're better off redeeming your Bonvoy points for either hotel rooms or airline miles.
How to pool Marriott points
If you're short on points for a stay, Marriott allows point pooling among Bonvoy members. Point transfers don't cost anything, but they are limited.
As a Marriott Bonvoy member, you can transfer up to 100,000 Marriott points per calendar year to another program member, and you can only receive up to 500,000 Marriott points per calendar year from other Bonvoy members.
Keep in mind that both your account and another program member's must be open for at least 30 days with qualifying activity or 90 days without qualifying activity before you can transfer Marriott points to each other.
If you're wondering how to redeem Marriott points for the most value
To maximize your Marriott points' value, stick to traditional redemption methods, such as free nights at a hotel or converting them to airlines whose miles are difficult to earn otherwise.
In some cases, booking a Hotel + Air Package can make sense, but like gift card redemption and merchandise purchases, you will not be getting the most value out of your Marriott points.
How to Maximize Your Rewards
You want a travel credit card that prioritizes what's important to you. Here are our picks for the best travel credit cards of 2021 , including those best for: