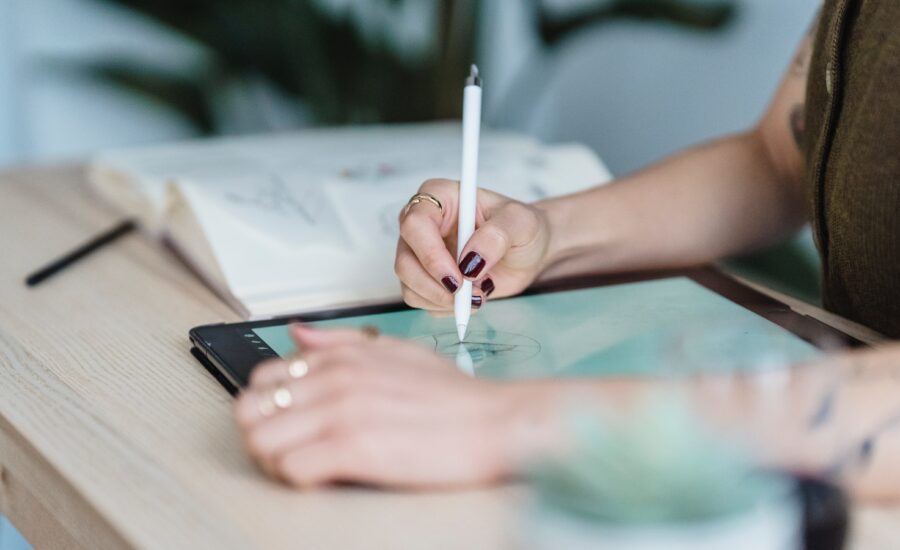 Photo by Michael Burrows from Pexels
Non-fungible tokens, better known as NFTs, are taking the world by storm. Whether you're scrolling social platforms, reading financial news or just waiting to skip that annoying ad on YouTube, there's no escaping non-fungible tokens.
NFTs are unique, non-replicable digital tokens that represent ownership of a digital or real-world asset. "Non-fungible" means the tokens are not interchangeable, unlike fungible assets like loonies or bitcoins. Like other digital assets, NFTs can be bought and sold.
NFTs have been around for some time, but they burst into the public consciousness in March 2021 when a digital collage by artist Beeple, Everydays: The First 5000 Days, sold at auction for an eye-popping US$69 million.
The crypto frenzy hit a new high in the third quarter of 2021, driving sales of NFTs to US$10.7 billion, according to market tracker DappRadar. NFTs' allure and legitimacy as an investment asset continue to grow as celebrities, sports stars and corporations get in the game as both buyers and sellers. It's little surprise that the global NFT market is projected to reach US$80 billion by 2025. If you're curious about investing in NFTs, here's a primer to help you understand how they work, which industries they influence and how to buy them.
How do NFTs work?
NFTs run on a blockchain network, a digital ledger that records all cryptocurrency transactions. The tokens are bought and sold on NFT marketplaces, and transactions are typically paid for with ethereum (ether), since most NFTs are part of that blockchain. Once purchased, tokens are stored in their owners' NFT-compatible digital wallets as collectors' items that could appreciate in value independently, depending on how scarce they are.
"The underlying blockchain enables anyone to view the history of the asset and verify its authenticity, while also facilitating any transfer or trading of the asset," says John Wu, president of Ava Labs, a team supporting development of the Avalanche public blockchain (AVAX).
The blockchain technology denotes an official copy of a piece of digital media, allowing musicians, artists, athletes and sports franchises to profit from selling digital goods—anything from gifs to virtual houses. Even tweets can become digital assets, as shown by Twitter co-founder and former chief executive Jack Dorsey and Tesla founder Elon Musk.
"Big names entering the space draw more attention to the entire asset class and technology underpinning NFTs, and that is undeniably positive for anyone building these projects," says Wu. NFTs' entry into the mainstream this year has a been prominent theme in the digital assets market, he adds.
How NFTs have impacted art, music and more
The demand for NFTs has caused a global rush of creators and investors scrambling to get a piece of the action. As a result, these tokens are disrupting a wide range of industries that long relied on conventional means of doing business.
"Everything from gaming to sports to music to real estate to even official record-keeping can be overhauled with NFTs as a more secure, transparent and transferable asset," says Wu.
The following industries are feeling the biggest impact of NFTs:
Digital art
Beeple's US$69-million sale of artwork drew global attention to this new asset class. "People started realizing that they could create and sell a whole host of things, particularly digital art as NFTs," says Hatu Sheikh, a founding member of DAO Maker, a platform for retail ventures to invest in early-stage blockchain startups and projects.
Artists were quick to realize that NFTs give them the potential to earn more from their artwork. Thanks to smart contracts—agreements executed and stored on the blockchain—they can also profit from secondary sales via royalties.
This has helped stimulate the world of digital art and provided a platform for new and undervalued artists to display their work. "They're now creating exclusive pieces of art with rare characteristics," says Sheikh. These attributes give "a unique sense of ownership to purchasers and therefore are worth hundreds and even millions of dollars," he adds. 
Global NFT sales hit US$25 billion in 2021, far exceeding the US$350 million value of the entire NFT market in 2020.  
Music
The music industry has seen a flood of NFTs from artists such as Snoop Dogg, Lionel Richie, Boy George, Grimes and Kings of Leon, who have made a killing by selling music and art as digital assets. Kings of Leon was the first band to release an album as an NFT, complete with special perks, such as limited-edition vinyl, audio-visual art, front-row seats at their live concerts, etc.
The music industry is a particularly interesting frontier for NFTs with regards to ownership rights to songs. "For an industry that has been forced to adapt rapidly in the digital age and fight content piracy, NFTs can play a significant role in protecting creators' monetary opportunities," says Wu.
Sheikh forecasts widespread adoption for NFTs and "newer and better NFT projects launching next year."  
Sports memorabilia and collectibles
Sports buffs and memorabilia collectors are now hunting for NFTs that offer proof of unique ownership of a video, photo, audio snippet or other digital capture of an important moment in sports history.
Professional leagues such as the NBA were quick to capitalize on a new way to create fan connections and experiences. Vancouver-based blockchain company Dapper Labs recently launched NBA Top Shot, a blockchain-based platform that allows fans to buy, sell and trade NBA highlights as digital tokens. One game highlight of a LeBron James dunk sold for US$230,000 on the platform.
Crypto experts believe the digital memorabilia scene is just warming up. "I would not write off NFTs as a passing fad," says Wu, adding that "we're just beginning to see their potential with relatively simple use cases."
NFTs are also the building blocks of the future virtual economy and the metaverse. "That's why, from an investment perspective, they're the future," Sheikh says.
How to invest in NFTs
If you want to dip your toe into NFTs, here's how you can buy them in Canada.
Step 1: Since the majority of NFT traffic occurs and originates on ethereum, you need to buy its native coin, ether (ETH). You can start by opening an account with a crypto trading platform like CoinSmart—which is regulated and facilitates the buying, holding and selling of a range of crypto assets—where your account will be verified within minutes.
Step 2: To fund your account, you can make an Interac e-Transfer from a Canadian bank account. Deposits are credited to your CoinSmart account the same day they're received. You can also pay with a credit card, a bank draft or cryptocurrency you own.
Step 3: Once your account is funded, you can buy digital coins, including ETH.
Step 4: Move your ETH to the NFT marketplace of your choice. Popular options include OpenSea, Nifty Gateway, Rarible, SuperRare and Mintable.
Step 5: Browse, bid on and buy NFTs, and pay for purchases with your ETH.
Bear in mind that, like trading platforms, NFT marketplaces may vary in functionality and security protocols. Be sure to choose one that suits your buying and storage needs and supports the crypto you're using. 
Read more on crypto:
Best cryptocurrencies to invest in for 2022
How to buy bitcoin in Canada (and find out where, too)
Trading tools that can raise your crypto game
Is ethereum a good investment in 2022? A guide for Canadian investors
What does the * mean?
If a link has an asterisk (*) at the end of it, that means it's an affiliate link and can sometimes result in a payment to MoneySense (owned by Ratehub Inc.) which helps our website stay free to our users. It's important to note that our editorial content will never be impacted by these links. We are committed to looking at all available products in the market, and where a product ranks in our article or whether or not it's included in the first place is never driven by compensation. For more details read our MoneySense Monetization policy .