Rewards optimizers who lament not being able to pay rent — often the largest monthly bill — with a credit card can finally rejoice. Bilt Rewards offers a Mastercard that allows you to not only earn rewards when you pay rent, but to earn them with no fee. The rewards you can earn from the card can be redeemed in a variety of ways.
Should you move the Bilt Rewards Mastercard into prime real estate in your wallet? Here are five things you need to know.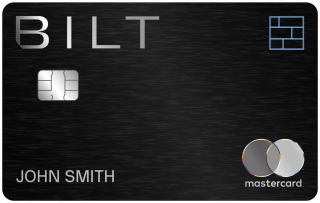 Image courtesy of Bilt
1. You won't pay fees
Anyone can join the Bilt Rewards program for free, but holding the Bilt Mastercard will supercharge your rewards. If you live in a rental unit that's part of the Bilt Alliance (as more than 2 million units across the U.S. managed by The Blackstone Group, Equity Residential and more are), you can pay your rent directly in the Bilt Rewards app and earn points for doing so.
If you don't live in a Bilt-affiliated property, you can still use the app to pay your rent, free of charge, and your landlord will receive a paper check in the mail from Bilt. But you won't earn rewards this way unless you also have the Bilt Mastercard. (More on the rewards structure below.)
While it's long been possible to pay rent with a credit card using certain third-party payment processors like Plastiq, the rub is that the transaction is laden with fees. In many cases, those fees outweigh the value of the credit card rewards you'd earn from the swipe. Bilt offers a fee-free way to charge your rent. Plus, you won't pay an annual fee to hold the Bilt Rewards Mastercard.
Nerdy tip: When the Bilt Rewards card first launched in mid-2021, the earnings structure was more complex. The card has since done away with monthly spending requirements and simplified its program.
2. Earnings are competitive
The Bilt Rewards card isn't just for rent. Since it's a Mastercard, it can be used anywhere that such cards are accepted. When you swipe the Bilt Mastercard you'll earn:
3 points per $1 spent on dining.

2 points per $1 spent on travel.

1 point per $1 spent on rent (up to 50,000 points annually).

1 point per $1 spent on all other purchases.
Bilt Mastercard isn't the only no-annual-fee card to offer heightened rewards on everyday spending categories. The Chase Freedom Unlimited® , for example, earns 5% cash back on travel booked through Chase, 3% on dining and drugstores and 1.5% points on all other purchases. But it, and other cards in its class, won't earn fee-free rewards on rent.
The only catch with the Bilt Mastercard is that you'll have to make five purchases per month with it to be eligible to earn rewards. That's not a steep requirement for most people, and there's no minimum purchase amount stated. But it means that you'll have to use the card for more than just rent each month to earn the rewards.
3. Reward options are plentiful but values vary
Rewards earned from the Bilt program are flexible and can be redeemed in a variety of ways, including:
Rent.

Future home down payment.

Travel: Transfer points 1:1 to travel partners, including American Airlines, Air Canada, Air France, Emirates, Turkish Airlines, Hawaiian Airlines, Virgin Atlantic, Hyatt and IHG.

Fitness: Redeem points for classes with SoulCyle, Rumble and more.

Home decor and curated art.
Bilt says the value of points used toward rent will vary by building and management company, and the value of points used toward down payments will be up to 1.5 cents each. Point values for other redemptions may vary.
Nerdy tip: Transferring credit card rewards to travel partners can give outsize value. For example, NerdWallet values Hyatt points at 1.9 cents each. This is a baseline value, drawn from real-world data, not a maximized value. In other words, you should aim for award redemptions that offer at least this value or more from your Hyatt points.
4. You could earn interest on your points
Renters can earn Bilt points in a variety of ways, like on new leases and renewals, even if they don't hold the Bilt Rewards Mastercard. Bilt Rewards members can also be eligible for extra incentives, such as bonus points, depending on their status tier. The more points a member earns in a calendar year, the more benefits they can be eligible for in this tiered program:
Blue: Fewer than 25,000 points earned.

Silver: 25,000 - 49,999 points earned.

Gold: 50,000 - 99,999 points earned.

Platinum: 100,000 or more points earned.
Once you become at least a Silver member in the Bilt Rewards tier system, you'll be eligible to earn interest on your stash of points. Each month, you'll receive interest in the form of bonus points based on your average daily points balance for each 30-day period. While it may not amount to much (the interest rate is tied to the published national savings rate from the Federal Deposit Insurance Corp.), it's a unique added-value feature for the card.
5. You may not be able to get it (yet)
Getting the Bilt Mastercard, issued by Evolve Bank Trust, isn't just a few easy clicks away. Applications are on a waitlist-only basis.
If you live in a Bilt Rewards Alliance property (which most people seeking the card likely do), you can get priority by entering your property manager's email.
According to Bilt, more batches of applicants on the waiting list will be reviewed in the coming months.